Havasu Falls – Travel Guide 2023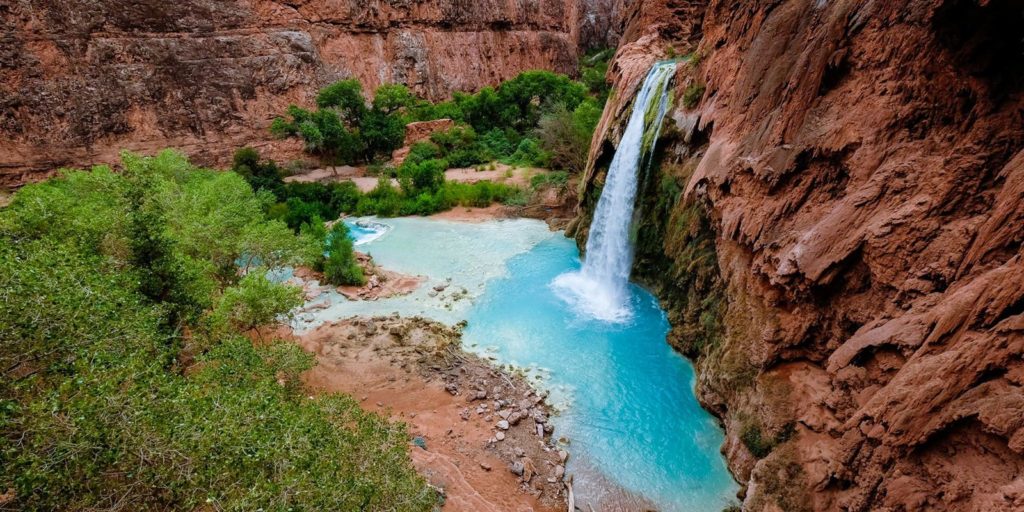 Waterfalls represent one of nature's most beautiful creations. Since ancient times, people had remained silent before their size and delighted with the phenomenal scenes. Waterfalls are also a paradise for photographers, adventure lovers, but also the rest of the world.
Havasu Falls are located in the Grand Canyon of the Colorado River in Arizona. These waterfalls are an utterly natural oasis for all lovers of hiking or mountain biking, or even for those who like to explore the steep natural paths of the American Grand Canyon.
Visiting Havasu Falls was a dream come true for us! Even though there are some disadvantages, such as difficulties of getting a reservation, tents, very high temperatures in late June, high price, etc., it was a magical experience!
The following are a series of tips and recommendations as a guide for you to get there quickly and enjoy your visit.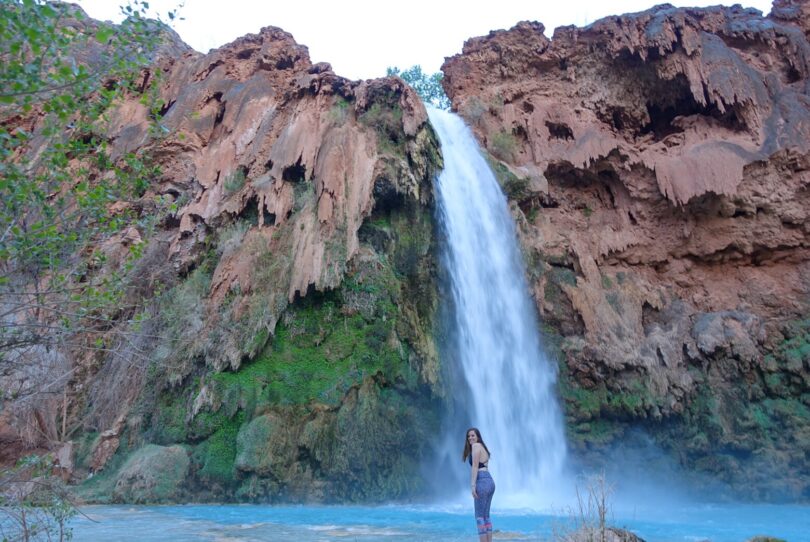 Location
The Falls are located in the middle of the Havasupai Indian reservation in Arizona. Supai is the only urban part. It is a small town with around 200 inhabitants according to the last census. It has all the necessary services for the indigenous population to live: medical center, school, supermarket, bar, etc. Even a church.
You can catch a free WIFI in this area, but in other places, such as the campground or Havasu Falls, you can't.
There are no roads to get to Supai, so the only options available are a 13 km walking or horse riding on sand and stone paths. You can use a helicopter as well. Hualapai Hilltop is the last place you can access using your car, which we will talk about it more in the following passages.
Hualapai Hilltop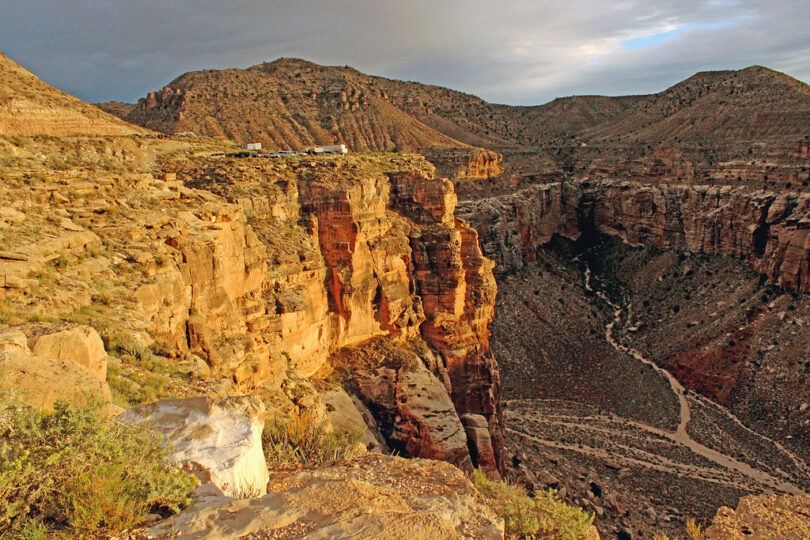 Hualapai Hilltop is a parking lot where the route to Supai begins with its famous Havasu Falls. The road ends at this parking, where there are no services. There is only one booth at the Havasupai tourist office where you give your name to verify that the reserve is in order (you cannot enter Havasupai lands without permission). In this booth, you can also leave luggage to be transported to Supai or the Havasupai Campground by mule or helicopter.
To get to Hualapai Hilltop, you should take the Indian Road 18. It leaves the historic Route 66 between the towns of Kingman and Seligman. They are about 100 km apart, which is a bit more than 1 hour. The distance from the Grand Canyon Village is about 300 km (3h 30m) and from Las Vegas 350km (4h).
Bookings
Until 2017 the reservation system was rudimentary. Reservations could only be made by phone. Hotel reservations need to be made one year in advance (almost impossible to obtain). And when it comes to bookings for the campground, each year they begin on February 1.
Once we made the reservation, official visibility began to be given to the new Havasupai website, which lists all the information on the reservation system, prices, etc. This system is still in force, and you can reach it through this website, which is good news for all those people who want to visit this magnificent place.
Two conventional means of transport
As we have previously commented, there is no road to reach Supai nor the Havasu Falls. There are three ways to get there: walking route, horse route, and a helicopter.
Everyone must have a Havasupai permit to be able to access and sleep for at least one night.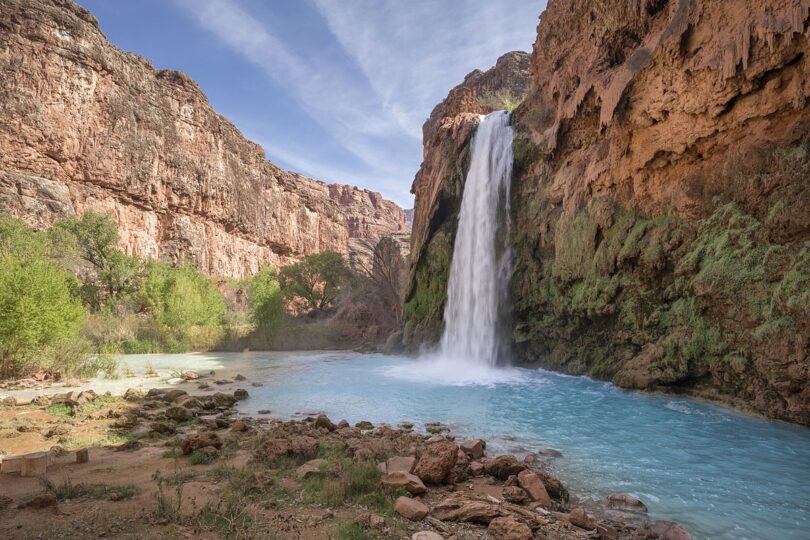 Walking route to Havasu Falls
Trekking is the best option for many reasons: the landscapes are a joy, you only depend on yourself, it is cheaper, etc.
Also, what you should keep in mind is the weather. It is boiling in summer, with temperatures exceeding 40 degrees. Therefore, it's essential to avoid the peak hours of the day. We completed two trekkings almost at night: the first one started at 5 am and the return one at 3 am. Quite a success because we did not experience any heat, and the temperatures on those days were around 43 degrees maximum.
Horse route
Another option available is to take the route from Hualapai Hilltop on horseback. It is the same 13km route as the trekking one, but, in this case, on horses` backs.
IMPORTANT NOTICE! Until 2017 the service and information were available on the official website of the Havasupai tribe, but in 2018 they removed it, so we do not know if this option is still available or not.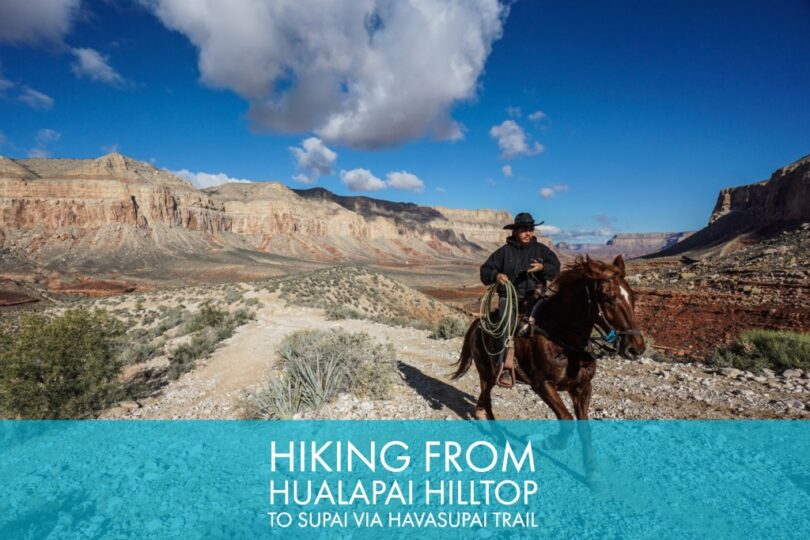 Accommodation
There are only two options to sleep on Havasupai land:
Lodge: In the town of Supai there is a small hotel with 24 rooms. It has a private bathroom, air conditioning, that is, quite comfortable for such a remote place. One of the drawbacks is that it is 3km away from Havasupai's main attraction: Las Havasu Falls.
How to get to Havasu Baja camping
Located on the Hualapai Hilltop, the start of the Havasu Falls trail is about a 4-hour drive from Las Vegas, and just 5 hours from Phoenix – the two closest major airports.
To get to the start of the Las Vegas trail, take Highway 93 south to Kingman, Arizona, then continue east on Route 66. Drive for 57 miles, and then you will reach India Highway 18 – then you should turn onto the left and drive for 60 miles until you reach the end of the road.
From the trailhead, the hike to Havasu Falls camp is about 10 miles one way. As you start your trek, you will notice that the trail begins on a descent that will take you down into the Havasu ravine. The path can get a little sandy at times, and there's nowhere to stock up on water here, so be sure to take plenty with you!
After around 7.5 miles, you will reach the town of Supai, where you will be able to pick up your wrist tags and tents at the Havasupai Ranger Office. You will need to keep your wristband for the entire length of your canyon stay and guard around the campsite daily to make sure each tent is labeled correctly.
From Supai, it is about a 2-mile hike to the camping area.
What to expect at Havasu Baja camping
Located at a point between Havasu Falls and Mooney Falls, the Havasu Baja campsite has is on both sides of the river. Camping runs about a mile downstream, there are four restrooms scattered throughout, and many campgrounds have picnic tables.
Please note that the Havasu camping area has no assigned sites, so you will be able to park your tent anywhere that is respectful of other people on the site. Also, while there is a water source in the camping area, no showers and fire pits are not allowed.
Hiking in Havasupai
Havasu Baja is very close to the Havasupai Campground, and there would be no need for you to do much extra walking to get to this main attraction. Therefore, the hike on the way in is mid-range, and much of it is well-maintained. If you, by any chance, get lost, follow the river until it reaches the camping area.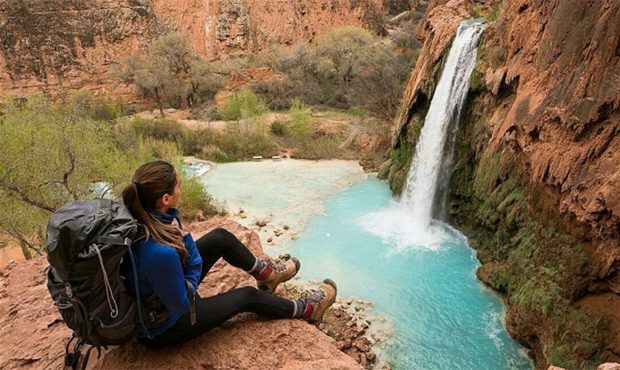 Beaver Falls
Much more isolated than the other falls, Beaver Falls is a 7-mile round-trip hike from the campground, and while there are some steep parts, it's mostly easy to carry.
New Navajo Falls
When it comes to your journey from Supai to the camping area, the road to Nueva Navajo Falls is easy to miss if you don't know what you are looking for. Once you leave Supai, you will start hiking on a sandy trail for about a half-mile. When it starts to open up, you should start looking for a path on the left. From there, Nueva Navajo Falls is approximately 300 yards away.
Mooney Falls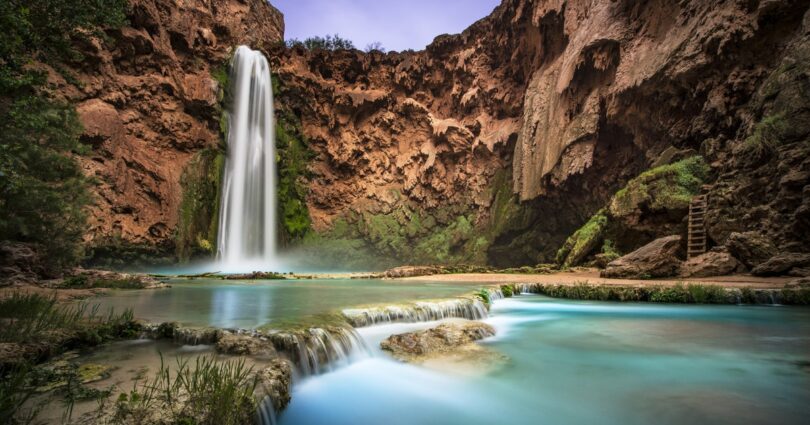 The highest waterfall in the area, Mooney Falls is a stunning beauty, although the hike to get there is a bit difficult and requires chains for added support. Just remember to go slow, don't feel pressured, and enjoy every minute of this picturesque 0.5-mile hike.
Never travel without travel insurance, as it is not worth the risk!
Hopefully, this guide will help you discover this incredible piece of paradise! If you are interested even more in the subject, visit views.zone to get some valuable info and tips.