6 Amazing Vacation Destinations in Thailand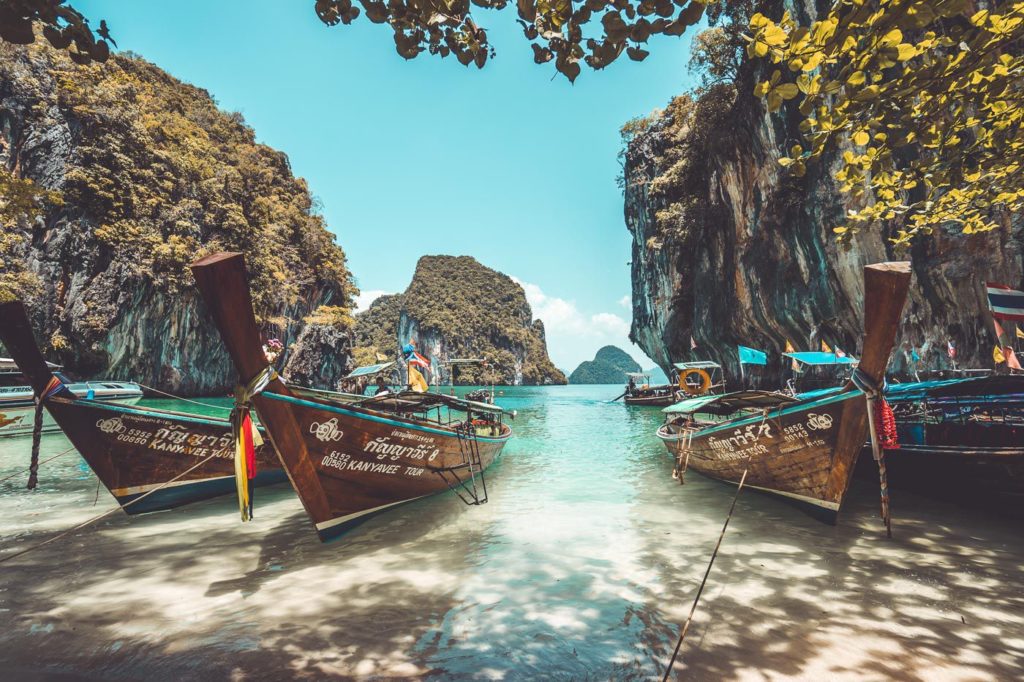 Since the late 1990s, the Tourism Authority of Thailand has used the word "amazing" to advertise the remarkably diverse attractions the country has to offer. Since the launch of the iconic "Amazing Thailand" campaign, tourism has taken off, reaching a record of 38 Million foreign visitors in 2018.
Of all the countries in Asia, Thailand has been one of the most successful at attracting tourists, and it is easy to see why. Because once you count yourself amongst those numbers, you will almost certainly return.
People from the West have long been curious about Asia and its diverse array of people and cultures. First-time visitors to the Kingdom usually find themselves awestruck and begin a love affair with Thailand that lasts a lifetime. The same cannot always be said for competing for vacation spots in the region.
Thailand is rich in heritage, offering up countless adventures and discoveries, and visitors who explore the whole country are often surprised by the varied landscapes. The Southern border with Malaysia features dense jungle, which you can follow up the peninsula until the land around Bangkok flattens out and becomes considerably less sylvan. Then, as you head north to the borders with Burma, Cambodia, and Laos, the landscape is dominated by mountains.
You can find hotspots of biodiversity throughout the country, with incredible flora, fauna, and wildlife. Wetlands are teeming with birds and jungles, which still have wild rhinos, tapirs, mouse deer, and elephants, in addition to huge tracts of rice paddies and open grasslands. And then there are the 1,430 amazing islands lying off the coast of Thailand – some in the Gulf of Thailand, others off the Andaman coast in the westerly direction of the Indian Ocean.
Anyone looking for sun-drenched beaches with crystal clear waters will be spoiled for choice. But if it is the cooler climes you seek, the mountains of Chiang Mai and Chiang Rai may be your preferred destination.
Here are 6 of Thailand's most popular tourist destinations waiting for travelers.
1. Bangkok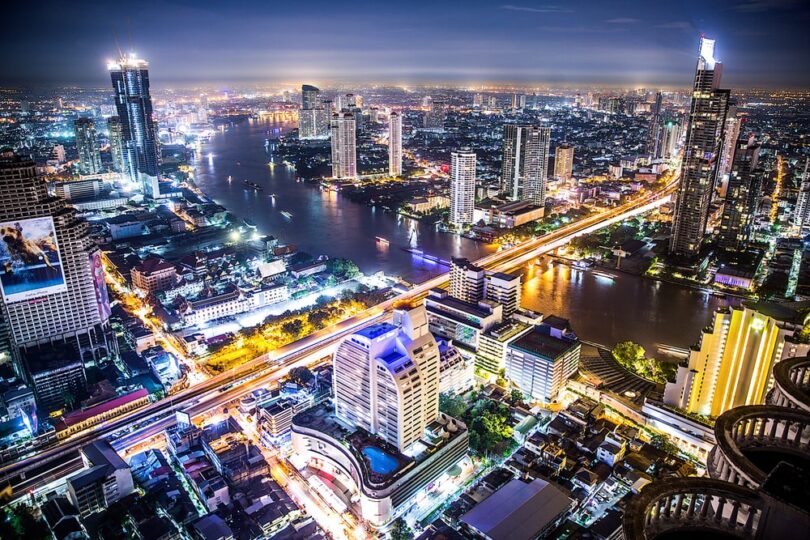 We've already mentioned a lot of what Thailand has to offer, but any discussion of tourist destinations must start with the iconic capital city of Bangkok. This sprawling metropolis, with its combination of ancient history, skyscrapers, parks and gardens, dazzling lights, shopping, and epic nightlife, has something for everyone.
Even if you are not a fan of cities, there are temples, palaces, museums, and river cruises to help you forget you are in a metropolitan area that is home to over 20% of the country's population. The Chao Phraya River and its tributaries constitute Thailand's most famous river system. It flows from central plains through the center of Bangkok and drains from the country into the Gulf of Thailand. The river is teeming with barges and ferries, which take passengers past temples and places, luxury hotels, as well as traditional wooden houses, giving an extraordinary look at the new and the old.
Bangkok is often referred to as "The Venice of the East," owing to the 1,682 canals around the city, totaling over 1,600 miles (2,600 kilometers) in length. A long-tail boat ride through the canals is an amazing experience. Traditional wooden homes sit alongside palatial modern compounds, and both share the banks with Buddhist temples and Christian churches. You will see men fishing and children swimming in the canal, and if you keep your eyes peeled, you will also see more than one monitor lizard either taking in the sun or having a swim of their own. The most remarkable thing about a canal boat trip is what you won't see: any evidence that you are in a massive city.
There are too many pockets of evening entertainment throughout the city to mention them all. These include night markets and bazaars, Thai street food, and countless bars and restaurants. The nightlife in Bangkok has evolved beyond the girlie bars for which it was once famous. You can still find these, but for many, they have been supplanted by rooftop bars, and restaurants perched 40, 50, or even 60 floors up, each with stunning views across the city and the river.
Bangkok also has an excellent light rail system for getting around the city, which includes both a sky train (BTS) and an underground train (MRT). It is quite reasonably priced, very comfortable, and in December 2019 celebrates 20 years in operation. You may find that trains don't always go exactly where you need to be, so for those journeys, there are ample taxis which are extremely cheap.
As you'd probably expect from a 14-million-person metropolitan area, there are thousands of options for accommodation, ranging from backpacker hostels to 6-star hotels — and everything in between.
2. Pattaya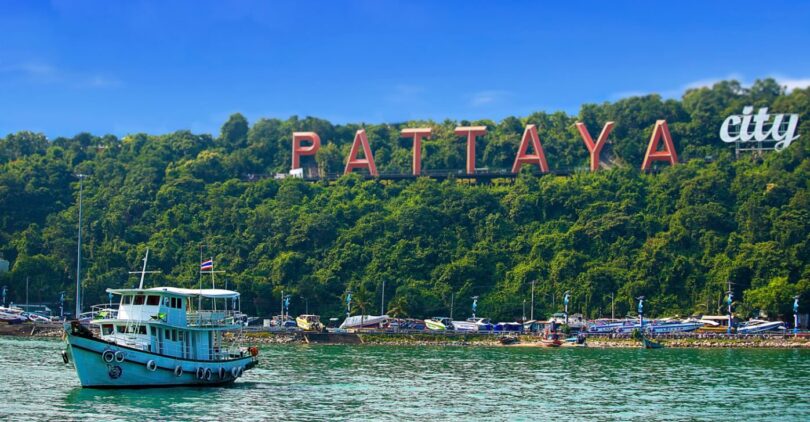 Pattaya is considered Thailand's major party resort. If the main objective of your vacation is "fun-fun", then you may want to make Pattaya your destination of choice.
Pattaya is home to the famous "Walking Street." This 1-kilometer stretch from Beach Road to the Bali Hai Plaza is Party Central for Pattaya and is a haven for bars, restaurants, live music, and street food. It is closed during the day, but as the sun goes down, it comes to life with a vengeance.
But the area is not only for the party crowd. Jomtien, a little further south along the coast, is ideal for anyone looking for a quieter, more laid-back holiday. Jomtien has an excellent beach, and it is also home to a luxury marina, which claims to be the largest in Asia.
The area certainly offers a wider range of attractions to visitors than it did a couple of decades ago. With golf courses, theme parks, cabarets, amazing temples, waterparks, and even a vineyard, there is more to do than just sit on the beach or visit a bar. The Silverlake Vineyard churns out some surprisingly good wines, so rather than a trip to Walking Street, why not try a wine tasting?
3. Phuket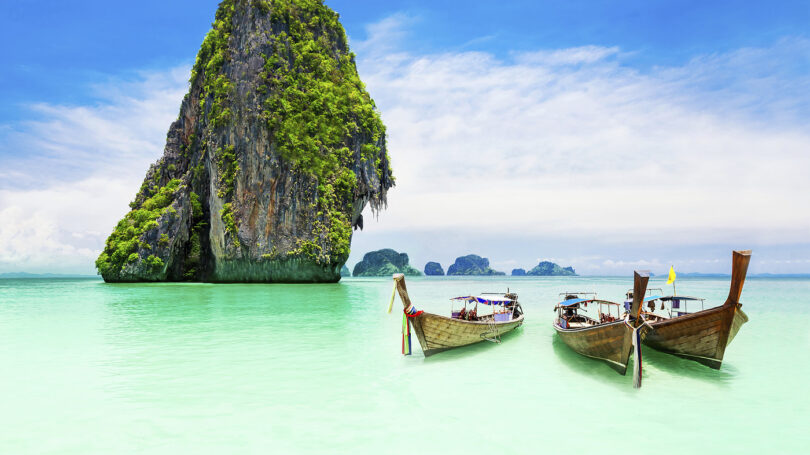 Phuket is Thailand's best-known island destination. Sitting just 660 meters (721 yards) from the mainland, Phuket's natural beauty and stunning west-facing beaches have earned it the sobriquet The Pearl of the Andaman. The island is not confined to a single resort area, which is why you can find fantastic accommodation with sunset views across the Andaman Sea in Patong, Kata, Surin, and Kamala (to name but a few).
Phuket truly does have something for everyone. For the golfers, there are no fewer than six fantastic golf courses in the area. The vibrant yachting industry brings sailing enthusiasts from around the world, and sailing or motorboat excursions into the Andaman or around Phang Nga Bay are very popular with tourists.
Phuket has water parks, jungle trekking, waterfalls, the Big Buddha, and wildlife refuges (including the Gibbon Rehabilitation Project, which is working to reintroduce Gibbons into their natural habitat, after they had been poached to extinction in Phuket).
Phuket Old Town is known for its brightly colored townhouses and quaint family-run restaurants, coffee shops, and tea rooms. It really is a must-see on any trip.
If you're looking for some vibrant nightlife or excellent shopping, Patong is the place to go. Restaurants, bars, nightclubs, local markets, and large shopping malls. Whereas much of Phuket is pleasantly laidback, Patong is where the action is.
Phuket has an abundance of dining options available, from simple street food to award-winning international restaurants. If you like to fish, you're in the right place as it is the main staple of the island, and many of the local dishes tend to be fish-based. You are not, however, limited in your choices, and depending on which area of the island you are staying, you have a good chance of finding cuisine from almost every region of the world.
Not only is there an array of accommodation to choose from suitable for every budget, but there are also a number of beautiful condominiums or private pool villas on the island, some of which offer breathtaking sea and mountain views. You can click here.
4. Koh Samui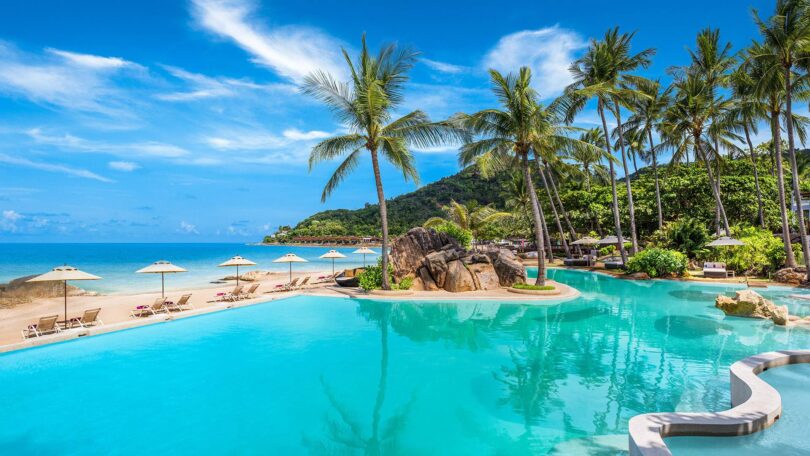 Koh Samui is an island in the Gulf of Thailand, which is on the opposite side of the Thai Peninsula from Phuket. Samui is Thailand's second-largest island, and is an idyllic paradise dotted with thousands of coconut palms, amazing beaches, and spectacular sunsets.
Chaweng Beach is the busiest tourist area, while Lamai is quieter and much more relaxed. There is also the very quaint Bophut Fisherman's Village with traditional-style buildings that today are home to boutique stores, restaurants, and bars. The Beach Road in Bophut also has a small range of accommodation to choose from.
Koh Samui has a completely different feel to the other beach resorts of Thailand, which may have something to do with the vast array of tourists who visit there. Young travelers (some of them backpackers) use Samui as the "jumping off spot" for the party island of Koh Phan Ngan. Divers fly in to catch a boat to the excellent dive spots on Koh Tao. And families go there just to relax on the beach and enjoy the scenery.
Another popular attraction is the stunning Ang Thong Marine National Park. Its 42 limestone karsts dot a landscape that is both surreal and beautiful. The area is protected and has many hidden caves and waterfalls to explore, as well as an abundance of wildlife.
5. Chiang Mai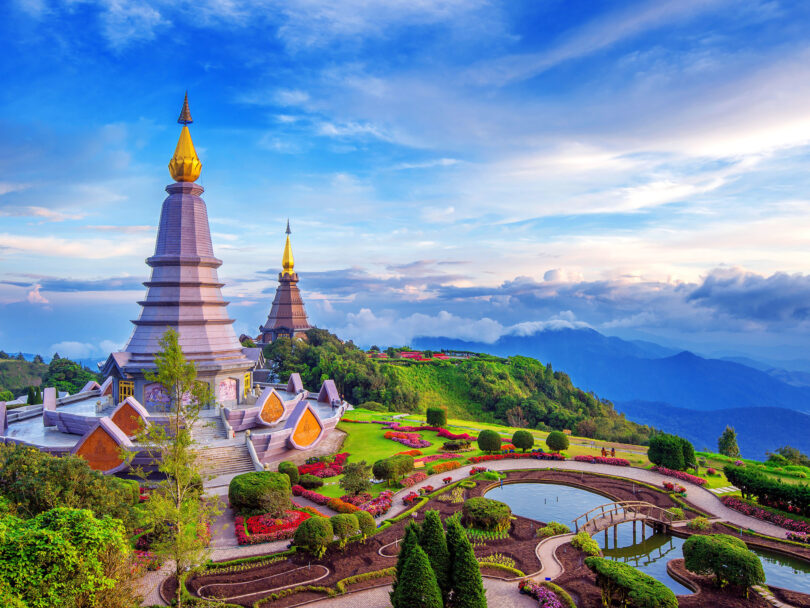 Chiang Mai is 685 km (426 miles) from Bangkok and is the largest city in northern Thailand. Perhaps unsurprisingly, there is much to see and do, which revolves around the breathtaking natural surroundings.
Every province in Thailand has protected national parklands, but there are few as spectacular as Doi Inthanon National Park. Around 90 minutes from downtown Chiang Mai, it is well worth the trip. With cascading waterfalls, imposing temples, and glorious views across the mountains, which are part of the Himalayan range, it is definitely worth a visit. The mountains here are also home to ethnic tribes such as the Akha, Lahu, Lisu, Hmong, and Karen, who still adhere to the lifestyles of their ancestors, including hunting and farming.
Another attraction is the Flight of the Gibbon Zipline experience. This is a chance to get up close and personal with wildlife in their natural habitat. The experience includes sky bridges, as well as the longest zip line in Thailand. For those who are inclined, abseiling is also available.
If you want to experience another breed of local wildlife, there are also a number of Elephant Sanctuaries in the province, which allow interaction between the elephants and the tourists, but do not offer rides (or other activities which are not natural for the animals).
Most people decide to stay in the Old City section of Chiang Mai. This area is a fusion of old and new and is home to many restaurants and bars, including international restaurants that are popular among tourists.
The old City Wall still surrounds this part of Chiang Mai, and many of the temples – which are also worth a visit – are within easy reach. Accommodation choices are plentiful and include budget hotels as well as upscale 5-star resorts.
6. Hua Hin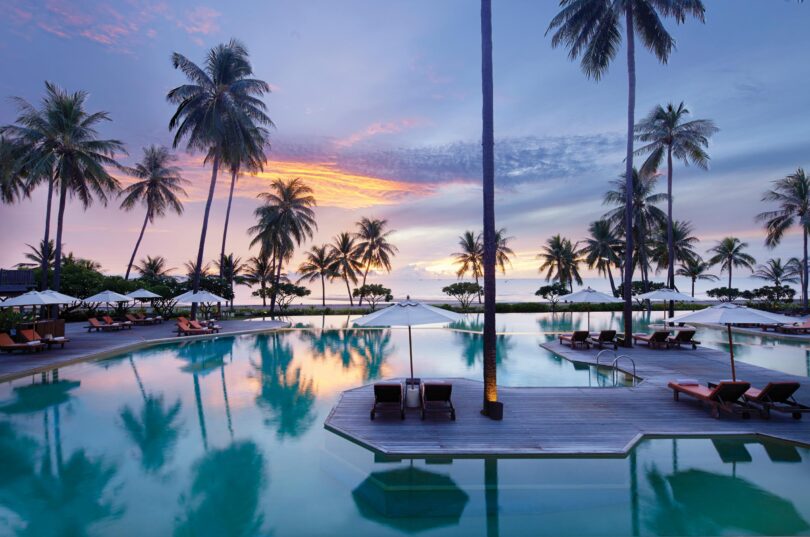 Hua Hin is a resort destination on the northwestern Malay Peninsula, 123 miles south of Bangkok. There are some beautiful beaches here, which have been popular with Thai vacationers ever since the railway connected Bangkok to Hua Hin in 1911. When the line to Malaysia and Singapore was completed a decade later, Hua Hin became a popular stopping off point for people traveling to Bangkok.
The Klai Kangwon Royal Palace was commissioned by Rama VII in 1926, and it has been the summer residence of every king since then. This "royal connection" is probably why Hua Hin is more refined and relaxed than some other tourist destinations in the Kingdom.
But don't confuse refined with pretentious. There is a range of accommodation here to suit any pocket, and there is no shortage of things to do to keep the whole family occupied.
If shopping is your passion, there are various markets such as Cicada, Hua Hin night market, and Chat Chai Market. There are also several shopping malls in Hua Hin, including Market Village, which combines shopping with restaurants and entertainment. But for those who crave a more traditional Thai experience, there is the Sam Pam Nam Floating market.
The Black Mountain Resort is one of the more popular resorts in Hua Hin. As well as a spa and waterpark, it also boasts an 18-hole golf course and lessons from the club pro.
There are a number of tours and excursions available, including jungle trekking, cave exploration, and boat tours. There is also the nearby Monsoon Valley Winery, which has been producing award-winning wines since 2002.
Summary
There is so much to see and do in Thailand that it is not possible to accomplish it all in one trip (or even in 10). It is not uncommon for new visitors to the Kingdom to begin planning their next trip before they have even left.
There are a vibrant capital city and mountains with views from the top of the world. There are relaxing tropical islands, as well as beach resorts that attract both backpackers and kings.
It is Amazing Thailand, and for most travelers, it is also loved at first sight.