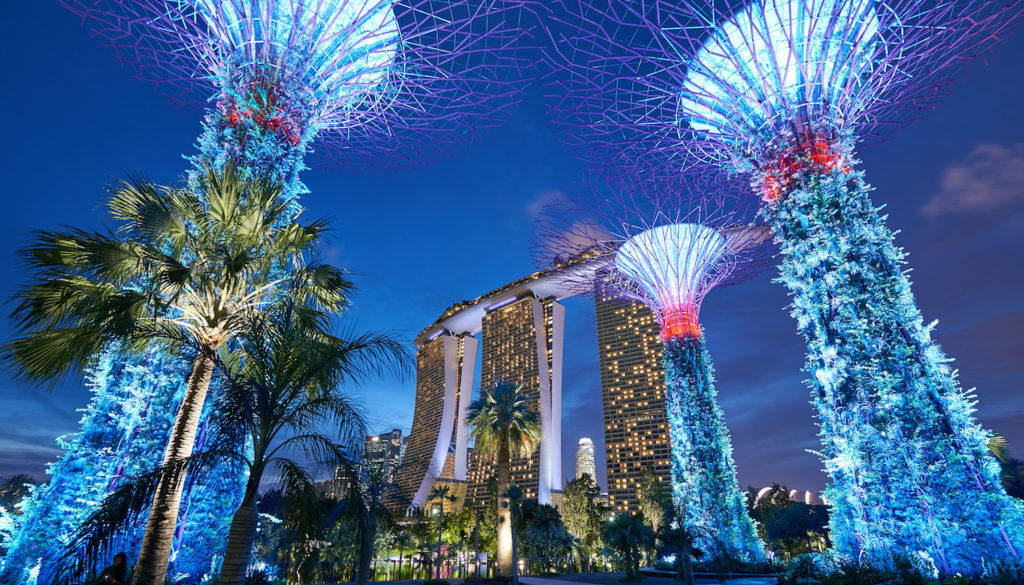 Singapore is a relatively small island country that has tons of incredible attractions. It is a melting pot of various cultures and offers a lot of cultural aspects like cuisines, religion, architectural designs, and many others. It is also very advanced technologically with breath-taking sights and structures that have futuristic designs, and at the same time, it is a commercial hub.
Regardless of the reason why you are visiting the Garden City, you will enjoy a lot and leave with incredible memories. This article will give you some insider tips on where to visit in the city-state, where to stay, where to eat, and all sorts of things that you ought to know for a great time there.
The best time to visit Singapore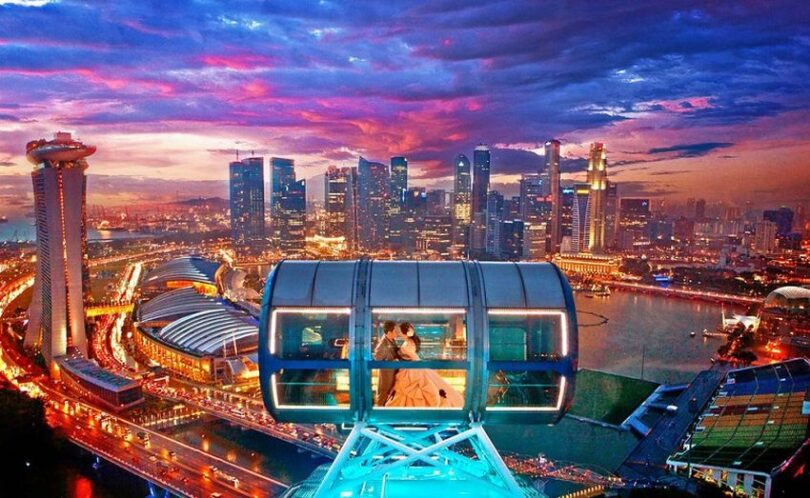 So, when is the most appropriate time to visit the Lion City? Well, you could visit here all year round. The reason for this is that the country has a tropical climate, so there is plenty of sunshine throughout the year. However, it is noteworthy that February experiences more rain than the other months. If you are interested in tourist attractions, you should avoid June and December as these are school holiday months and those places will be thronging with families. June also witnesses a major sale, so if you are working on a tight budget and would like to do some shopping, this is a perfect time for you. You should also consider always having an umbrella at your reach since the city experiences unexpected showers now and then.
Means of reaching Singapore
Singapore boasts of being among the biggest aviation hubs in South East Asia, so you are better off flying into the country. You are spoilt for choice since there are so many airlines flying into and out of the city-state ranging from local budget airlines to great global names like British Airlines and KLM. If you make early bookings, you could enjoy unbelievable deals on airline tickets, so start planning your visit early enough.
While planning, make arrangements for your visa to have easy entry into Singapore. Businesspeople need to be careful with their visa application process to avoid rejection. According to singapore-visa.net, a long -experienced and reputable visa company, entrepreneurs can avoid visa application rejection by working with professionals who will prepare solid wining cases to get the visas approved.
But one of the problems faced by business entrepreneurs is they need to apply for employment visas when they arrive in Singapore. However, most countries require bank statements and other documentation to prove that you have the means to support yourself while in Singapore. This information must be presented at your interview when applying for an employment visa, which can complicate matters if you are traveling on a tourist visa with only a few days left before it expires.
Meanwhile, investors enter Singapore under either Investor or Business Owner Scheme after getting investment approval from Economic Development Board (EDB).  They may also come under Employment Pass (EP), S-Pass (for specialists), or Personalised Employment Pass (PEP) if their work passes certain criteria.
Specific requirements are needed for different types of visas. You can find out more about these requirements by visiting singaporevisa.com.
For example, tourists and people coming for job interviews need to prove that they can pay their own costs while in Singapore and aren't expecting to work. They must also provide proof of financial backing from a third party who will be responsible for them while they are in Singapore, such as a family member or friend.
Great attractions worth seeing
The list of places to visit while in Singapore is long and you may not make it to tour and explore each of them unless your visit is quite long. Here are some must-visit places:
The Gardens by the Bay:

This is a one of its kind indoor garden that has vegetation from various regions growing in mammoth temperature-controlled domes. It is well-known for the giant super-trees that are equivalent to 16 stories tall.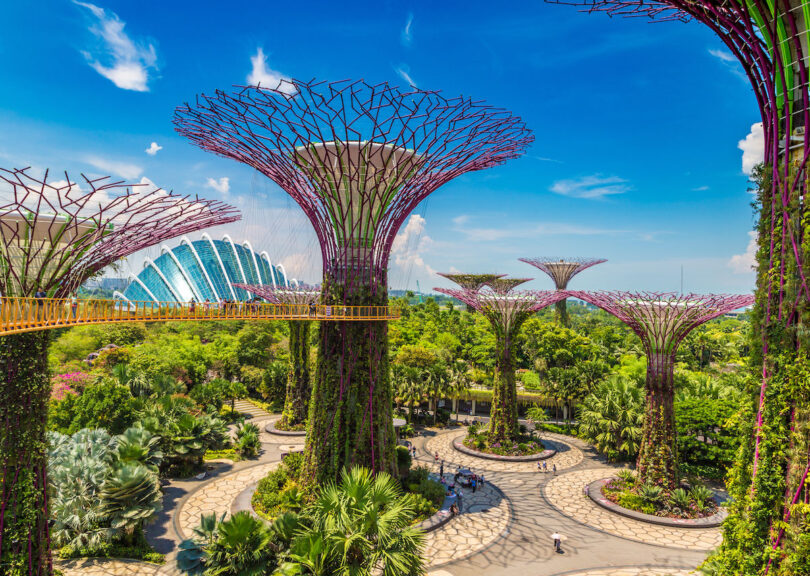 Museums:

The country is home to some of the greatest museums including the Art and Science Museum, located at Marina Bay Sands, and the National Gallery, just to mention a few. You will get a rare opportunity to experience the rich cultural diversity as well as get a bit of the futuristic dimension that will trigger your thoughts and curiosity.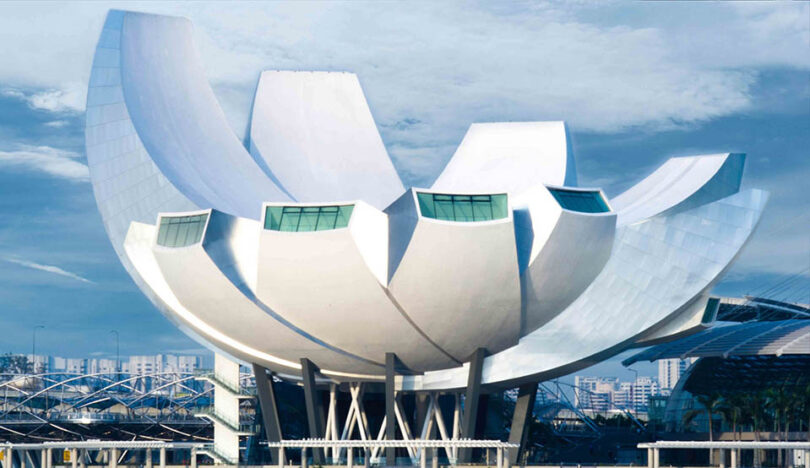 Marina Bay Area

: This is the epitome of Singapore's technological advancement and architectural sophistication. In a breath-taking row, you will see some of the island's best structures: the Helix Bridge, the Singapore Flyer, the ArtScience Museum, and the enormous Marina Bay Sands. This is a tourist hotspot especially, after nightfall when all of the buildings are lit up.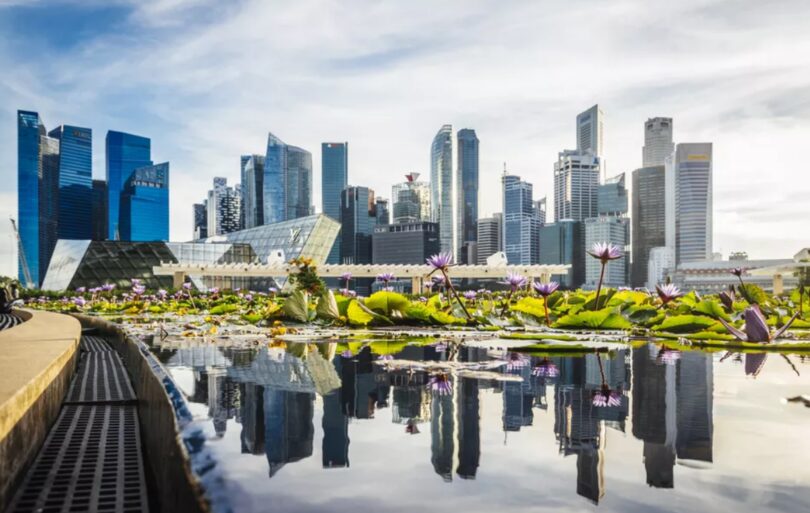 Chinatown

: This is one of the city state's most well-known attractions. Culture enthusiasts have plenty to enjoy: historical buildings such as the Teng San Tian temple, the Budha Tooth Relic Museum, ancient medicine halls, colonial shops, and many others. You will feel like you have gone back many years back. Food lovers will also find Chinatown a great place because Food Street is a market for a myriad of Chinese delicacies from the mainland. You can also find great mementoes there at the Chinatown Street Market at incredible bargains.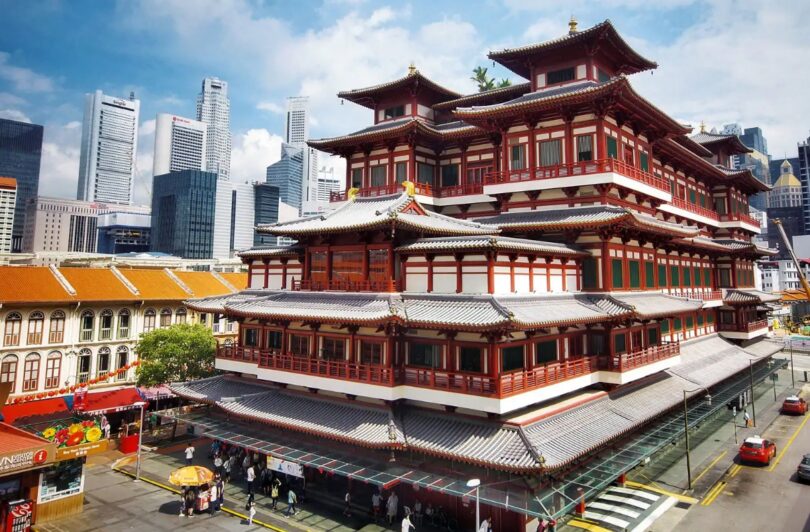 Sentosa

: This resort island is a beehive of fun activities and has a bunch of thrilling attractions. Some of the key features are Universal Studios and the SEA Aquarium, the world's biggest aquarium. Weekends find the place packed with revelers in the bars enjoying great moments while others are on the beaches. People can get to the island on foot via the Sentosa Boardwalk, by using the Sentosa Express Monorail, or onboard the cable car. The latter not only offers the visitors the rare chance to enjoy the picturesque aerial views of the city, the island, and the harbourfront area, but to get there in style.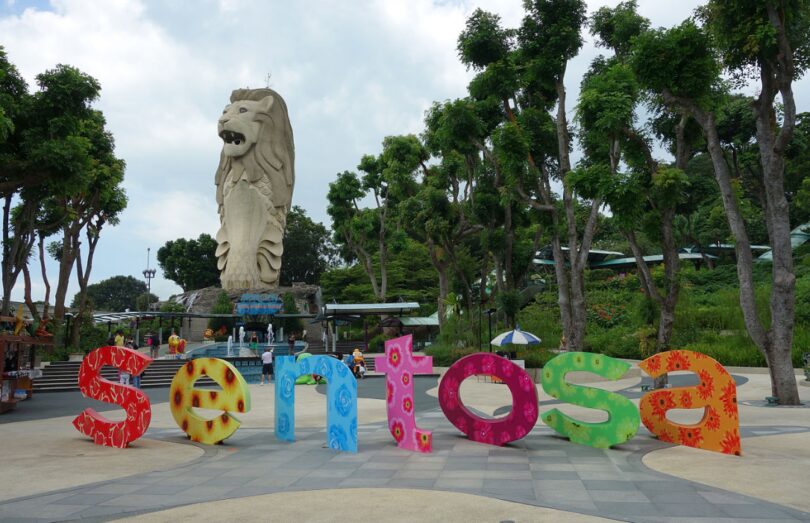 Places to stay
You need not worry about getting accommodation in Singapore because it is pretty easy. Accommodations range from budget hotels or affordable hostels to high-end hotels, all of which are within the city and easily accessible by several means.
For budget accommodation, you will find some reasonable places in Chinatown and Little India. On the other hand, luxurious hotels are located on Sentosa Island and in the Marina Bay area, among other places. An example of a high-end hotel is the Fullerton Hotel.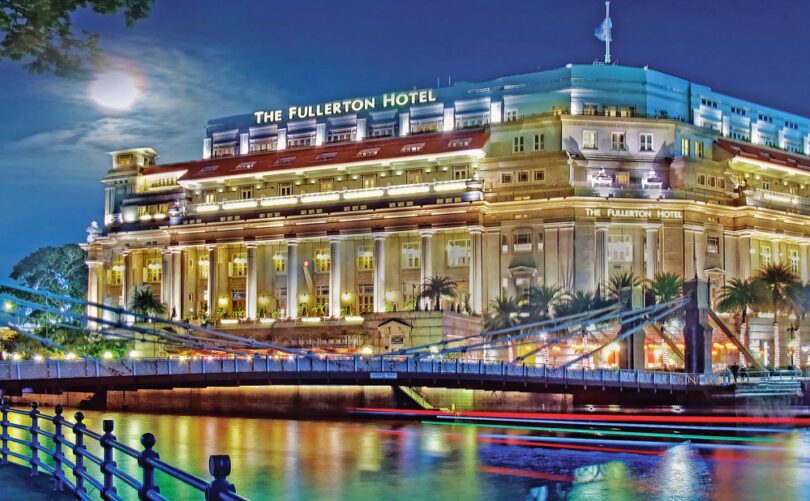 Places to eat and dishes
Some people say that eating is the national past-time activity of Singapore, and this could be true. You will find restaurants and cafes all over the place and some operate 24/7. However, the real deal when it comes to experiencing the local dishes is by eating at the hawker's centres. Some popular hawker centres that visitors can check out include Tiong Bahru Market and Old Airport Road Food Centre. Chinatown and Hong Lim Market are also great places to try staple local foods. Visitors who want to eat at restaurants can check out local food websites such as Yelp Singapore, Burpple, and Hungrygowhere. The high-end hotels also offer assorted dishes.
Some of the great foods to try include:
 

Hainanese chicken rice (the national dish) – Tender chicken roasted or poached and served together with aromatic and soft white rice.

 

Satay – Open fire grilled bite-sized skewered meat accompanied by sweet and spiced peanut sauce, ketupat (rice dumplings), and red onions.

 

Roti plata – A flat South-Indian bread that is crispy, served with fish or chicken curry

 

Ice-cream bread – A great dessert for warm days made of a soft and fluffy rainbow bread and your favourite flavor of ice cream, or instead of bread, you can pick a crunchy wafer.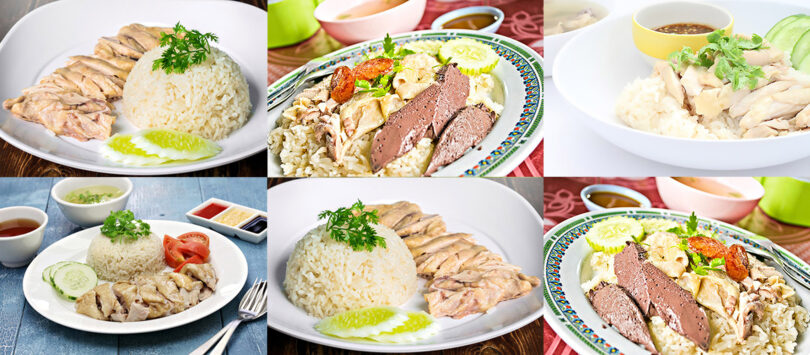 Moving around Singapore
The easiest way to make your tour around the city is by the Mass Rapid Transit (MRT), the country's version of the metro or subway. You only need to buy an EZ-Link card, which is sold at every MRT station and 7-Eleven store. You could also use your credit card or Apple Pay as contactless cards by registering with SimplyGo. Official transport sites like SBS and SMRT are great sources of information for updates such as early closures of stations for maintenance, so always be sure to check them.
You may also travel around on buses, which are fairly frequent, thus easy and convenient means of travel. Your EZ Link card will come in handy while using buses to settle fare, or you can pay a single fare, in which case you should make sure you have coins because change will not be given.
Taxis may also help you to travel around, and these have meters to determine fare, so there is no haggling. The amount paid for fare depends on the taxi type, distance, surcharges dependent on timings, and the boarding location. App-based taxis such as GoJek and Grab, which work like Uber, could be a better alternative and charge reasonable fares.
Walking from one place to another could also be an option, and the best thing is that most attractions are close to each other. However, due to the heat and humidity, you may perspire a lot.
Conclusion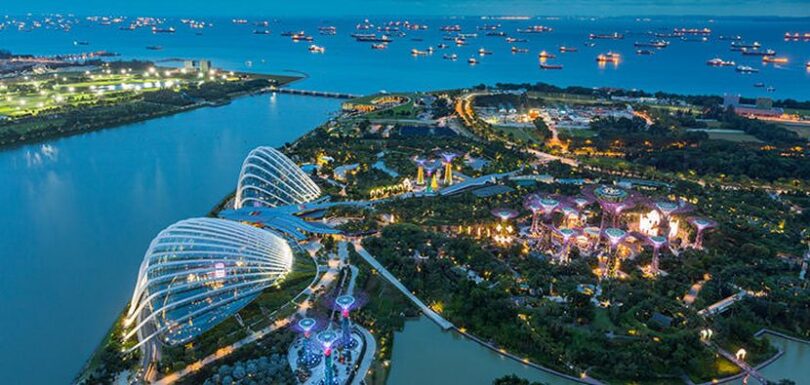 A visit to Singapore is a great experience to remember for a lifetime. For your stay to be free of trouble, ensure that you understand the laws of the city to avoid paying hefty fines or even being thrown behind bars. For example, you should not litter, or else you will pay an instant fine of at least S$300. Public consumption of liquor is also not allowed between 10:30 pm and 7 am.
For communication, English is the most commonly used language, so you are good to go if you know it. However, the Singaporeans have their version of English called Singlish, which is a blend of English and local languages such as Malay, Tamil, and Mandarin. It may be a bit confusing for visitors, but locals are okay with it. You may need to learn Singlish to have easier conversations with the locals.
Singapore is welcoming and accommodating for people from all over the globe, so you should have a great and enjoyable time here and make friends.