Pamukkale Hot Air Balloon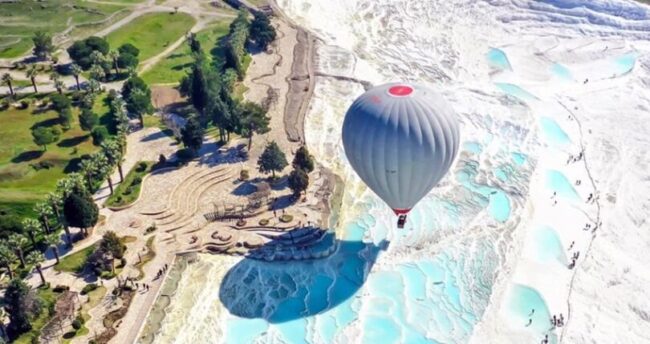 Experience a charming hot air balloon ride over Pamukkale on a sunrise flight. Enjoy a spectacular morning view as the balloon moves effortlessly over the ancient city of Hierapolis and the white limestone rock formations. Then enjoy a Champagne toast with snacks and receive your Pamukkale hot air balloon flight certificate. You will never forget your first balloon flight; it is truly an experience that you cannot compare to anything else.
What's included in a Pamukkale Hot Air Balloon Flight?
Hot air balloons are a unique form of air traveling and a great way to celebrate a special occasion, engagement, birthday or anniversary. Read more about what you can expect on the day of the flight and reserve your balloon ride today!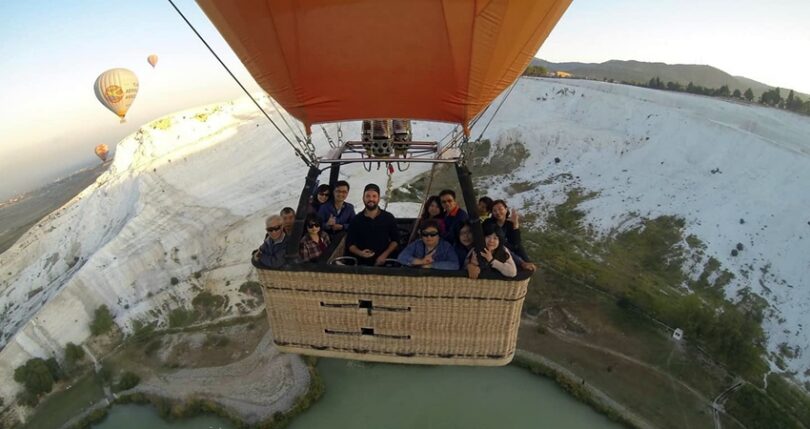 Departure & Return
We meet 1 hour prior to sunrise and then travel to our launch site. You will receive a special briefing by your pilot about the flight and landing. Inflation takes about 15 minutes and then we are ready for take-off! The crew takes care of everything but you can certainly help with the balloon's inflation if you would like to. Please remember to bring your camera and comfortable shoes.
Balloon flight with an experienced pilot
Safety is our highest priority! All pilots are certified, highly experienced and full-time professionals. The pilot is up to date of the weather conditions and decides early in the morning if it's safe to fly. If the weather forecast doesn't look good, the flight will be rescheduled. The exact location of the take-off and landing will be determined by the wind direction.
Balloon flight
The safest and most beautiful flying hours are just after sunrise when the wind is the lightest. Once you're up in the sky, you will enjoy the spectacular sunrise and the pilot will show you the beautiful sites of this area. You will see the famous limestone rock formations that draw thousands of tourists to this area every year. The ancient city of Hierapolis and the hot springs are wonderful to see from above too. The flight is approximately 1 hour and when it's time to land your pilot will give you instructions on how to get ready for landing.
Champagne toast & flight certificate                                                       
After landing, there will be a champagne party to celebrate our safe landing. Non-alcoholic beverages are also available. We will then drive you back to our center in Pamukkale.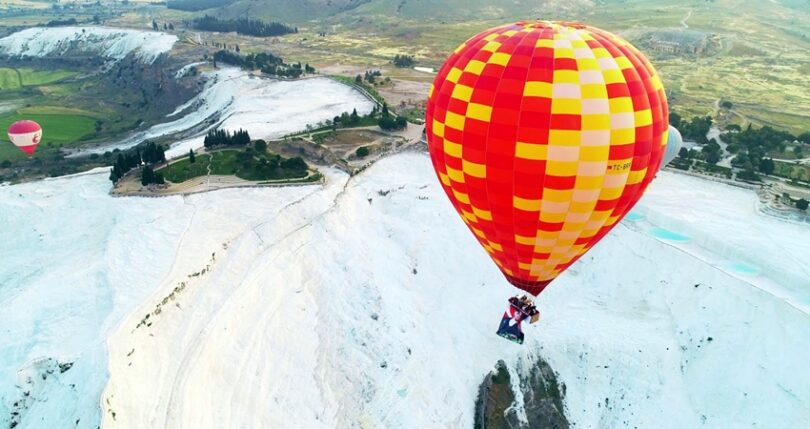 Tips
We recommend you to book your Pamukkale hot air balloon via excursionmania.com ride on day one or two of your trip as this tour is dependent on the weather. This gives you flexibility if your tour needs to be rescheduled because if the conditions are not favorable for a safe flight, the pilot may reschedule the flight.
How high does the balloon go?
The hot air balloons can reach a maximum of 3,000 feet above the ground but they usually fly a little lower so that you have the best view of Pamukkale.
What should I wear on a balloon flight?
It is recommended that you wear casual clothing, including long trousers and flat shoes or walking boots. Dress comfortably, and preferably in layers because you will start the day before sunrise and the temperatures can be a lot cooler than during the day. If you're taller than average than you might want to wear a hat because the closer you are to the balloon's burners the hotter it gets.