Myanmar Motorcycle Travel Itinerary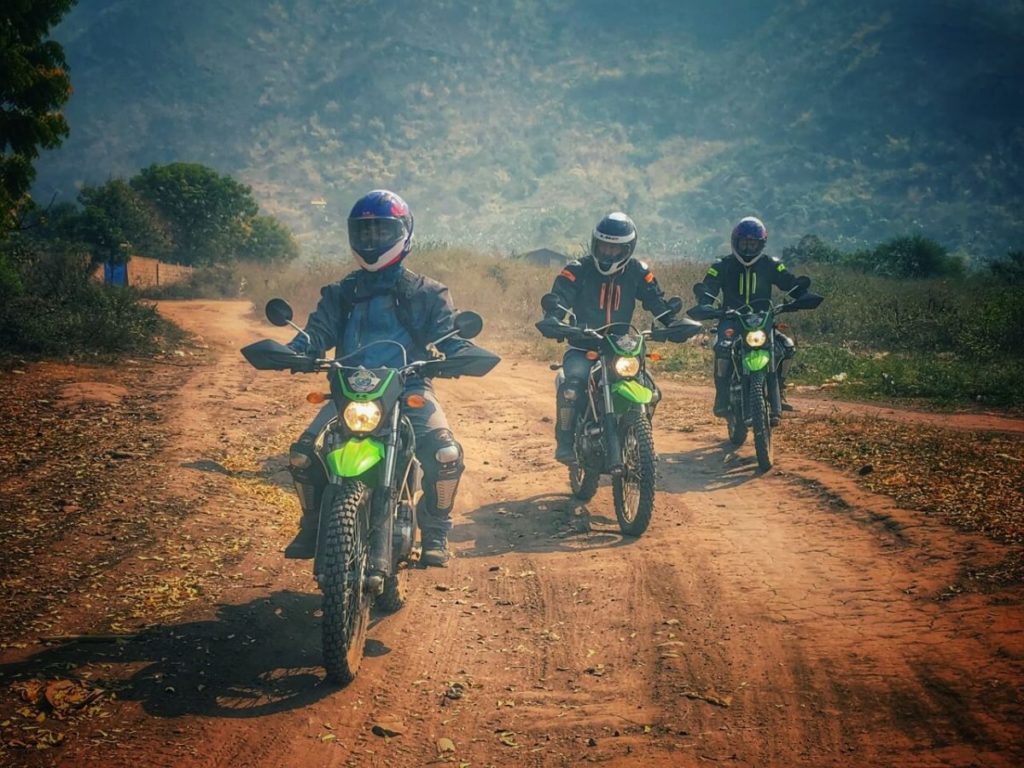 Myanmar (formerly Burma) is not the first Southeast Asian destination that most motorcycle enthusiasts might suggest for a bike tour abroad. however, the country actually boasts a number of fantastic itineraries to give its neighbor, Thailand, a run for its money.
While some motorcycle routes include Yangon (formerly known as Rangoon), the capital of Myanmar, many of the best take riders up into the north and west of the country, to explore the spectacular ancient temples surrounding Mandalay and deep into the countryside of the Chin State to visit unique heritage sites.
However, before grabbing a map of Myanmar and planning out your itinerary, remember to check if you need a travel visa for the county! It's now easier than ever to get a Myanmar visa through an online application as myanmaronlinevisa.com, but it's important to take care to meet the Burma visa photo requirements to guarantee your visa is approved before your trip.
Planning a Motorcycle Tour in Myanmar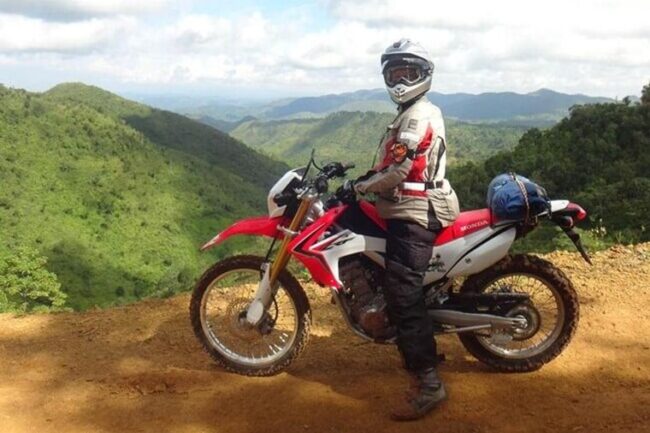 A motorbike tour is truly one of the best ways to discover local traditions and customs in Myanmar, as it allows you to get up close to the Burmese countryside and its people.
While some brave travelers may choose to rent a dirt bike from a Motorcycle workshop in Myanmar and head out on their own, the majority of visitors who wish to see Burma by motorbike go on an organized tour.
A few different companies organize motorcycle routes in the country, and some even operate over the Myanmar border with Thailand. The majority of Burmese bike tour companies fully arrange accommodation, meals, and dirt bikes or motorcycles for their clients, meaning that all you are really required to do is choose the itinerary for your trip.
Yangon in One Day by Motorbike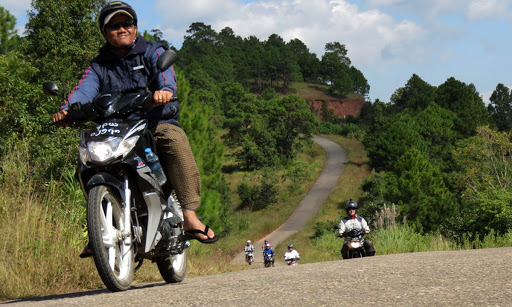 If you don't have much time to spend in Myanmar, a 1-day tour of Yangon will still allow you to take in much of the capital city and its surroundings. Many motorcycle tour companies offer an 8-hour Yangon cultural experience by bike, including stops at the main attractions such as the Shwedagon Pagoda and the Chauk-htat-gyi Buddhist Temple
Additionally, some tours include a visit to the city's bustling Bogyoke Aung San marketplace and the opportunity to enjoy authentic Burmese cuisine at local eateries, as well as a boat trip down the Yangon River to discover the traditional villages that lie beyond the city limits.
If you have more time to spend in the capital, consider taking a tour to visit some of Yangon's spectacular outlying attractions, such as the Kyaikhtiyo Pagoda, also known as the Golden Rock.
Located in the mountains northeast of the capital, this huge gold-painted boulder towers precariously over a steep cliff, is one of the most sacred Buddhist pilgrimage sites in Burma, and makes for a fantastic photo opp.
Myanmar Itinerary for a 3-day Bike Ride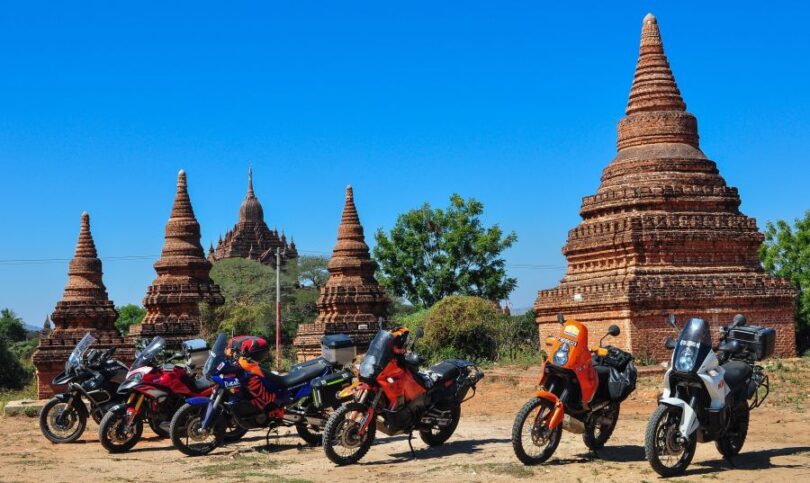 A 3-day motorbike tour in Myanmar typically covers a distance of 250 kilometers in and around the city of Mandalay, and takes in the following destinations:
 Inwa
 Thadar Oo
 Myo Thar
 Myin Gyan
 Waddy Myo Haung
 Wet Lu
 Amarapura
Mostly avoiding the main tourist routes in the region, this itinerary takes riders deep into the Mandalay countryside to discover the ancient ruins of Inwa (also known as Ava), Myanmar's former capital, as well as a number of unique traditional villages. The tour ends in the city of Amarapura, where you can visit famous landmarks such as the iconic U Bein bridge over the Irrawaddy River.
Myanmar 7-day Itinerary for Motorcycles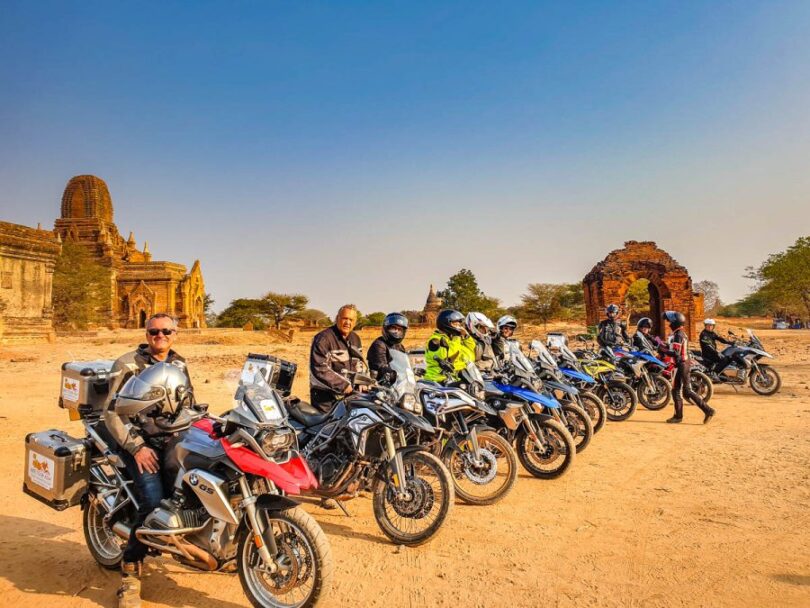 A 7-day motorcycle itinerary typically begins and ends in Mandalay and covers over 800 kilometers across Chin State in west Myanmar. This route takes in the following cities:
 Mindat
 Kanpetlet
 Pakkoku
Highlights of this bike tour include close-up views of Mount Victoria, one of the highest mountains in Myanmar, and Natmataung National Park, home to some of the world's rarest bird species. The route also weaves through a number of stunning rural villages where the local women sport remarkable traditional facial tattoos.
Although this itinerary can be completed in 6 days, it's worth sticking around an extra day on getting back to Mandalay to discover everything that the former royal capital has to offer.
Stroll the city to take in unique monuments including the golden Kuthodaw Pagoda, the majestic Mandalay Royal Palace, and the historic Shwenandaw Monastery, which is believed to contain relics of four previous Buddhas.
5-Day Thailand Border Hop Itinerary
While in Myanmar, you could also consider including a trip to see a little of neighboring Thailand, through a short "border hop" motorcycle tour.
Several bike companies in Myanmar offer either 4 or 6-day itineraries that both take in popular Burmese destinations like Inle lake, Hpa-An, and Mawlamyine mountain, as well as Thai locations such as the city of Chiang Mai.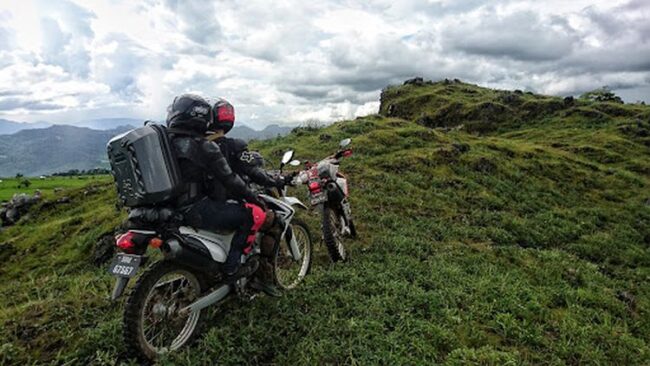 Myanmar Bike Itinerary for 10 Days
A 10-day motorbike itinerary also typically begins and ends in Mandalay and covers the following stops on a route:
 Pakokku
 Mindat
 Kanpetlet
 Bagan
 Kalaw
 Inle Lake
 Pindaya
If you have the time to take it on, this extended itinerary allows you to see much more of Myanmar, including the majestic expanse of Inle lake. Many bike tours that include Inle on the route allow for a stop to go sightseeing on the lake by boat, to experience the traditional Nampan village and its magical floating gardens.
Some of the tours also allow for ample time for sightseeing in Bagan, a huge 26 square-mile temple complex located on the banks of the Irradiwary River. Inscribed as a UNESCO World Heritage Site in 2009, this famed ancient city is home to over 3,000 temples and pagodas and may take you a whole day to fully explore!
12 Days in Myanmar by Motorcycle
A 12-day Myanmar itinerary for motorbikes is similar to a 10-day plan, but also typically includes visits to the following in addition to the destinations listed above:
 Popa
 Sagar
 Loikaw
 Ywar Ngan
It's well worth adding a couple of days onto your 10-day route just for the chance to hike up Mount Popa, an extinct volcano with a monastery on top, and explore the stunning UNESCO World Geopark of Myanmar in the surrounding area. You also get a chance to stop off in Sagar, another ruined ancient capital of Burma, located on the southern banks of Inle lake.
No matter which motorcycle adventure through Burma you decide to try, don't forget to research tour companies, make a booking, and check if you need a visa for Myanmar well in advance of your trip to ensure availability!