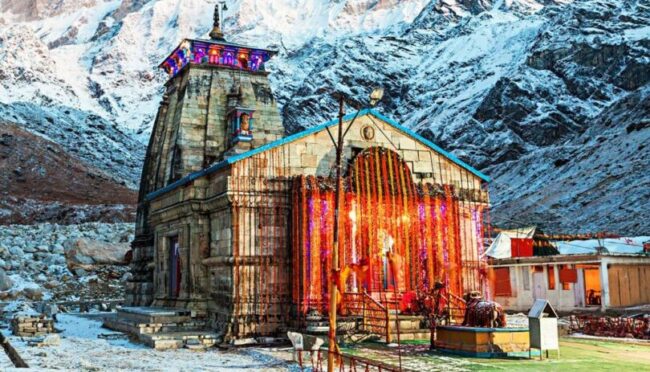 When someone mentions the Hindu shrine Kedarnath, the first thought that comes to mind is the devastating flash flood that took place in 2013. on June 16, 2013 around 7:30 pm a landslide occurred near Kedarnath temple. The landslide diverted huge amount of water from Chorabari Tal to Mandakini river which caused a flash flood. The flood caused massive damage in surrounding areas. According to official records, 197 people were 4021 went missing. Once again on June 26, 2019 flood alarm was caused by satellite images showing surging waterbodies in Chorabari lake. However precautionary measures taken by the government averted the catastrophe.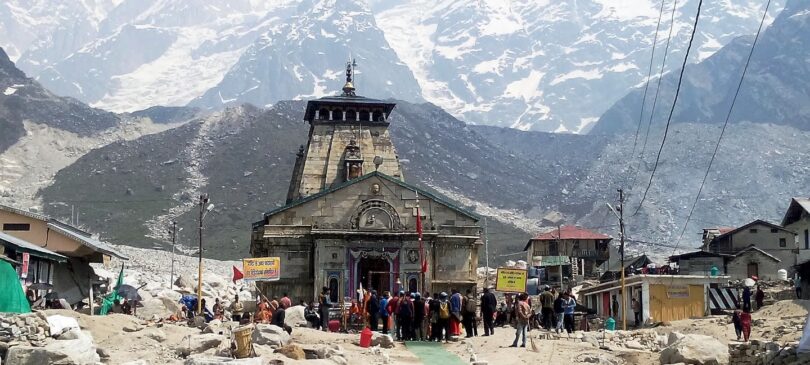 After the flood number of people visiting Kedarnath shrine has decreased significantly. However, Kedarnath being an important place of pilgrimage some devotees still prefer to visit. Now the question is how to reach Kedrnath safely. The pilgrims have to cross ruins of destroyed buildings and scattered household items. The progress of reconstruction is very slow. You can see fear in the eyes of locals as well as tourists. A new trek route has been carved to reach the temple which is 18 km long. Due to incomplete bumpy roads and tough trek it has become difficult to reach the temple. A portion of Kedarnath temple was damaged which is not yet repaired. It looks like it will take 2 to 3 years for complete reconstruction.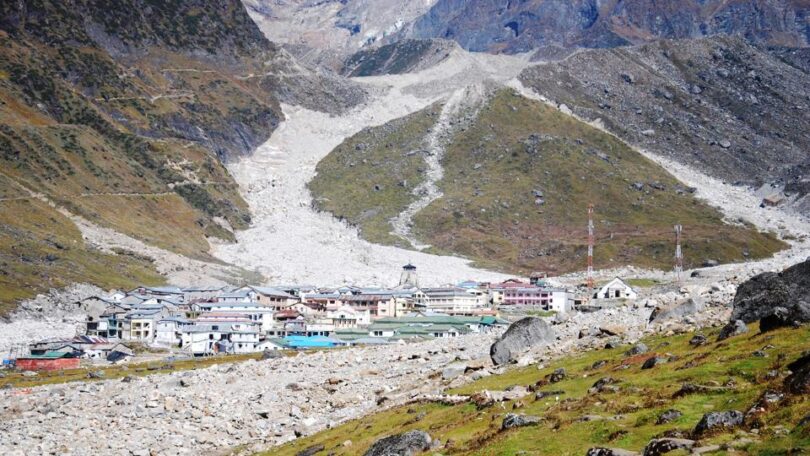 The town of Kedarnath is located in the Rudraprayag district in the state of Uttarakhand. It is situated at the altitude of 3584 m above sea level, on the banks of river Mandakini near Chorabari glacier. Snow capped peaks of Himalaya look grand in the backdrop of the temple. You can reach Kedarnath by road, rail or air. According to Uttaranchal website, Jolly Grant airport near Dehradun is the nearest airport from Kedarnath. From Jolly Grant airport you can hire a cab to reach Gaurikund.
You can also reach Gaurikund from other places in Uttarakhand and Northern India. Apart from Rishikesh, Gaurikund is connected with Dehradun, Pauri, Tehri, Haridwar, Srinagar, Uttarkashi and Chamoli by road. 18 km trek along the Himalayas connects Gaurikund with Kedarnath. During the floods, old trek was damaged. As a result, government has made a new trek. You can reach Kedarnath by crossing the new trek.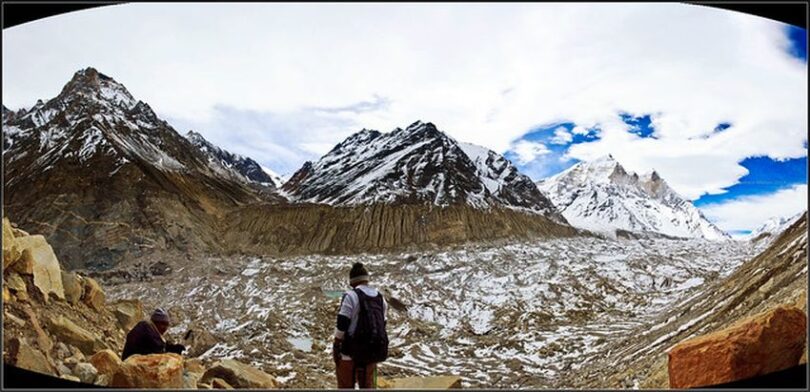 You can cover he trek either by foot or by horse. If you are planning to cross the trek by foot, make sure you start early, because after 1 pm pilgrims are not allowed to pass. It is also essential to carry proper warm clothes as it becomes quite chilly uphills. Sometimes temperature drops suddenly. It takes around 7 hours to reach Kedarnath on foot from Gaurikund. Many people think new trek is risky and unsafe.
If you are planning to cross the trek by horse, it may cost you around Rs 1800 one way per person. The horse would drop you right at the gate of the temple. Earlier in 2015, a proposal was made to the government to build a rope way between Gaurikund and Kedarnath. According to the proposal the rope way to be constructed was 11 km long. However, after government survey, the rope way would be 8.5 km long and it will connect Gaurikund with Kedarnath. Once the rope way is constructed, it will take only one hour to reach Kedarnath from Gaurikund. It will also be cheaper than hiring helicopter service.
You can avail helicopter service from Phata which is 10 km before Gaurikund to reach Kedarnth. Helicopter service is also available from Gupt Kashi in Rudraprayag district. From Phata they charge approximately Rs 3500 for one way trip per person. A number of helicopter services are operating to take you to Kedarnath. Some of them are Pawan Hans, Prabhatam, Pinnacle Air etc. one disadvantage of helicopter service is that it is not affordable for everybody. And helicopters cause a lot of disturbance in the forest area which is not good for ecology.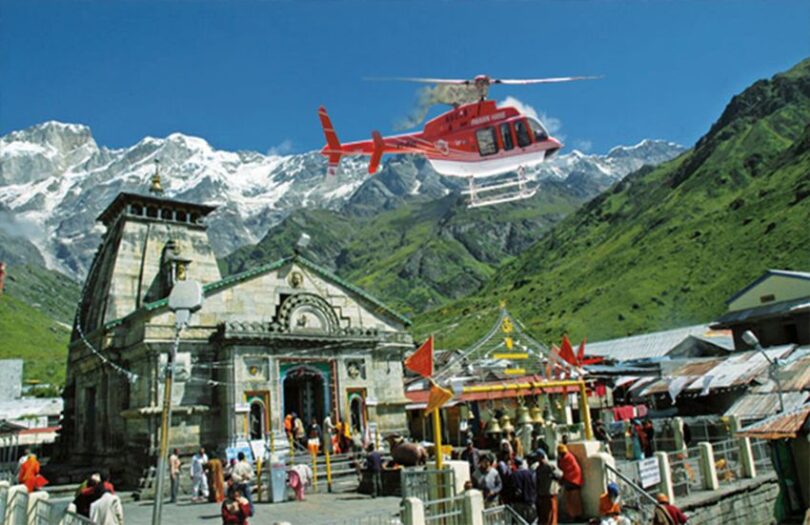 After 2013 disaster, the government has made it mandatory to get medical fitness certificate to cross the trek. The old trekking route from Gaurikund to Rambara has been repaired. And a new trek from Rambara to Kedarnath has been created. The total length of new trek from Gaurikund to Kedarnath is approximately 18 km. There are various facilities available across the trek such as medical centers, tea and snack shops, restrooms, emergency helipads and tents to take rest. SDRF personnel are available to help. However, pilgrims need to follow some precautions along the trek.
Some do's and don'ts along the trek: start trek early. Keep your movements slow. Take frequent breaks to rest. Keep yourself hydrated. Carry raincoats and woolen clothes. Wear proper trekking shoes. Do not wear slippers or chapals. Chew toffee or gum while trekking. Eventhough there are emergency medical centers along the way, always keep first aid box handy.
Reaching Kedarnath is a difficult task, but once you reach Kedarnath, surrounding beauty takes your breath away. Inside the Kedarnath shrine it's a heavenly experience to listen to the chanting of mantras. Kedarnatha shrine is considered to be one of the most auspicious places of pilgrimage. It is a place which purifies the soul and heal karmas. It grants wishes and helps to free from the cycles of birth and death. Kedarnath is one of the four Dhams i.e. abode of lord Shiva.
If you are planning a trip to Kedarnath, avoid winters to visit Kedarnath. During winters, the temperature reaches sub zero. Heavy rainfalls or snowfall cannot be ruled out. The months of May, June, September and October are the best months to visit Kedarnath. Go for a thorough medical check up before planning a trip to kedarnath. People with high blood pressure and respiratory problems should avoid trekking by foot. Make prior bookings for horses or palkies. If you cannot complete the trek withing assigned hours, you can stay in the tents set up on the trek. These tents are set up by the government near Jungle Chatti, Bheem Bali and Lincholi. You can rest for the night and resume your trek in the morning. We wish you all the best on your spiritual journey.