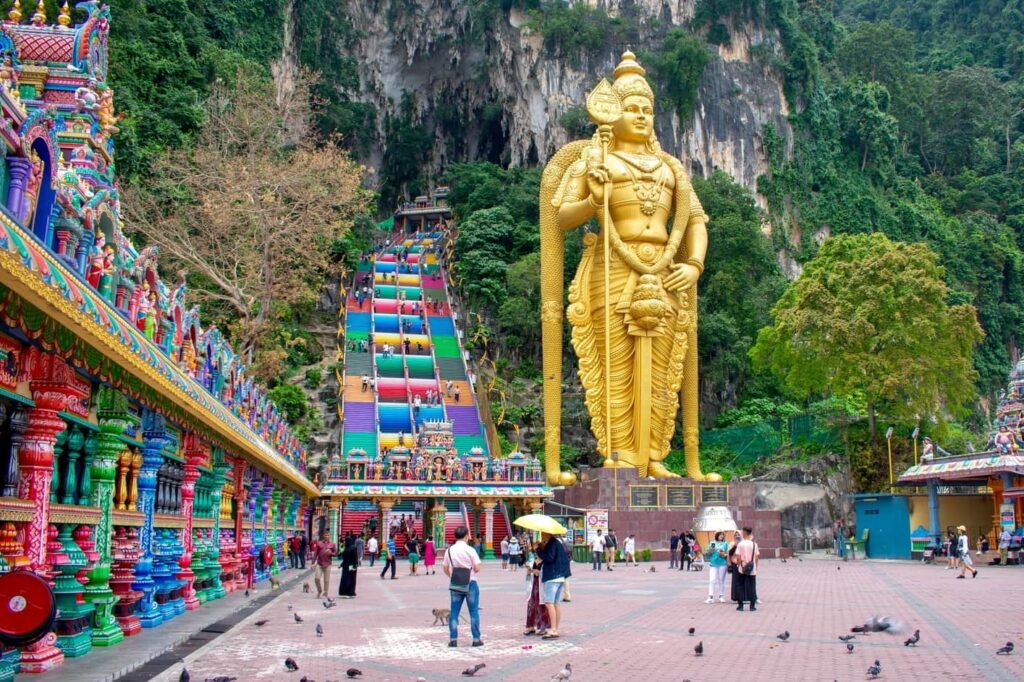 Kuala Lumpur is the capital of Malaysia, serving as the gateway between Asia and Oceania. The city is rich in interesting places and landmarks. Evergreen forests, night food markets, equatorial beaches, vibrant Hindu and Chinese temples, mosques, palaces, themed parks, and water parks — all these elements make up the city, which was founded in 1857.
Kuala Lumpur is located in the southwest part of the Malay Peninsula, in the valleys of the Klang and Gombak rivers. In this overview, you will discover the most intriguing places in the city that you can explore during a vacation or a weekend getaway.
Petronas Twin Towers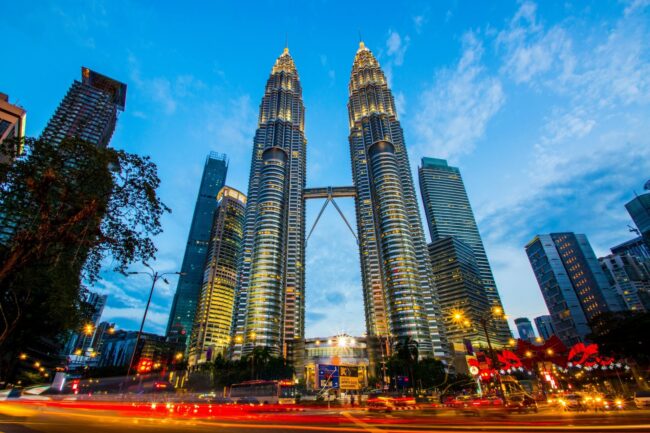 These towers are the symbol of Kuala Lumpur. Located in the heart of the city, they were constructed in 1998. The twin towers are connected by a bridge situated at a height of 170 metres between the 41st and 42nd floors. The height of the Petronas Towers is 451.9 metres with 88 floors each.
From 1998 to 2004, they held the title of the world's tallest buildings. Every tourist visiting the capital of Malaysia simply must take a photo against the backdrop of this landmark.
The bridge between the towers is open to anyone who wants to enjoy a panoramic view of the city. By purchasing a special ticket, tourists can access the observation deck located on the 86th floor. It is recommended to buy tickets in advance as there is high demand for them.
The ticket price for adults is 120 Malaysian ringgits (almost $26), and for children aged 3 to 12, it is 50 Malaysian ringgits ($11). Children under 3 years old are admitted for free, but they still need to have a ticket.
At the base of the towers, you will find Suria KLCC shopping mall, and on the 4th floor of the mall, there is the Gallery Petronas, which offers free admission. Adjacent to the towers is KLCC Park, featuring a large children's playground and a swimming pool.
Menara KL Tower
Alongside the Petronas Twin Towers, Menara KL Tower is another iconic symbol of Kuala Lumpur. It is a tall structure that offers a panoramic view of the entire city. KL Tower opened in 1996. Its height is 421 metres, ranking it as the 7th tallest telecommunications tower in the world.
More than 2,000 steps lead to the top of the tower, but a high-speed elevator takes passengers there in just a minute.
The view from the open observation deck at a height of 276 metres is breathtaking. There is also a Sky Box, which consists of two glass-bottomed boxes that extend beyond the tower's edge. The observation deck also features a café.
The observation decks are open daily from 9:00 AM to 9:00 PM. The ticket price for visiting is almost $24 for adults. Visiting a single deck costs $13. Combined tickets are available, including access to the observation decks and other attractions such as the aquarium and zoo.
Merdeka Square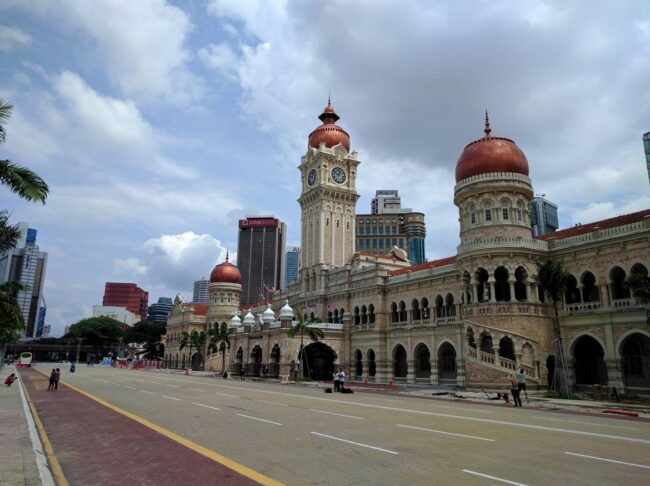 Also known as Independence Square, is an iconic landmark of the city. Malaysia was a British colony for a long time, but on August 31, 1957, the Malaysian flag was raised in this square, symbolising the country's independence. Tourists often choose this square as a starting point for exploring the entire city.
Independence Square is a beautiful open space with green lawns. It frequently hosts festivals, carnivals, and concerts. A notable feature of the square is the Sultan Abdul Samad Building. This red and white brick structure stands at a height of 41 metres, and its towers are dome-shaped. The building houses the office of the Ministry of Culture, Information, and Communications of Malaysia.
Merdeka Square is accessible for visitation year-round. It is recommended to come closer to evening to witness the sunset when the buildings are illuminated. During holidays and weekends, the square attracts a large number of people, so it is advisable to choose weekdays for visiting this historical site.
Batu Caves
Located 13 kilometres from the capital of Malaysia. It is quick and convenient to reach them by car, as car rental in Kuala Lumpur works excellently. Batu Caves are natural formations that form a complex of caves. When you climb the 272 steps, you enter the largest and most popular cave called the Cathedral Cave, with a height of approximately 100 metres.
The history of these caves dates back 400 million years, and until 1860, the local indigenous tribe called the "Besisis" used them as shelters during hunting. Since 1892, the Tamil festival of Thaipusam has been celebrated here.
Above the Batu Caves, there is a large variety of plants and animals. A total of 269 vascular plant species have been registered in the area. The caves are home to about 21 species of bats, and it is also known for hosting long-tailed macaques.
Batu Caves are very popular, so they are always crowded with tourists. In the past 10 years, it has also become a centre for rock climbing in Malaysia, with over 160 climbing routes available. If you want to experience the caves without the crowds, you may have to wait for the moments when people disperse, allowing you to truly appreciate the grandeur of the place.
The complex consists of four caves: the Ramayana Cave (entrance fee around $1), the Villa Cave (with a zoo), the Dark Cave (which requires a guide for entry), and the Cathedral Cave, which is the most visited cave and is free of charge.
The Kuala Lumpur Oceanarium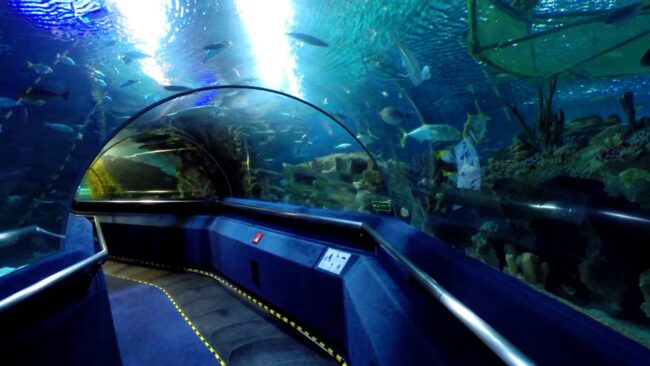 Covering an area of over 5,600 square metres, it houses more than 5,000 species of animals. The Oceanarium is open from 10 am to 8 pm, but we recommend checking the schedule on the website to ensure you do not miss the feeding times.
In a special zone, visitors can touch a shark, a sea cucumber, or a starfish. It is a popular destination for families with children. The Oceanarium also provides special lifts for mothers with strollers.
Tourists can walk through special tunnels surrounded by sharks and other fish behind glass. There is information about all the inhabitants of each aquarium. Even if you do not know English, you will still be able to understand some of the diagrams. By visiting the Oceanarium, you will get to see even the tiniest shrimps and crabs.
The entrance fee for adults is $16, while for children under 14, it is around $14. As you exit the Kuala Lumpur Oceanarium, you will come across a food court where you can have a relaxed meal. Further up the stairs, you will find the exit leading to the KLCC Park, which has a children's swimming pool.
The Kuala Lumpur Bird Park
The world's largest free-flight aviary, established in 1991. The park covers an area of 8 hectares and is home to approximately 3,000 exotic birds. The Bird Park appeals to both adults and children. It is a vast area where parrots, pink flamingos, hornbills, owls, and ostriches freely fly and roam around. More than 200 species of birds are concentrated in one place.
Around 90% of the park's residents are local species, while the remaining 10% have been brought in from Australia, Thailand, Tanzania, China, and Indonesia.
The entire park is divided into four zones: the first and second zones represent the concept of "free-flight," where the birds have a simulated natural habitat, the third zone is home to hornbill birds, and the fourth zone consists of small aviaries with parrots.
The Bird Park is open for visitors every day from 9 am to 6 pm. We recommend arriving early in the morning before the heat intensifies and tourist buses arrive. This way, you can also secure a parking spot. Tickets are available at the park's entrance and on its official website.
The Chinese Quarter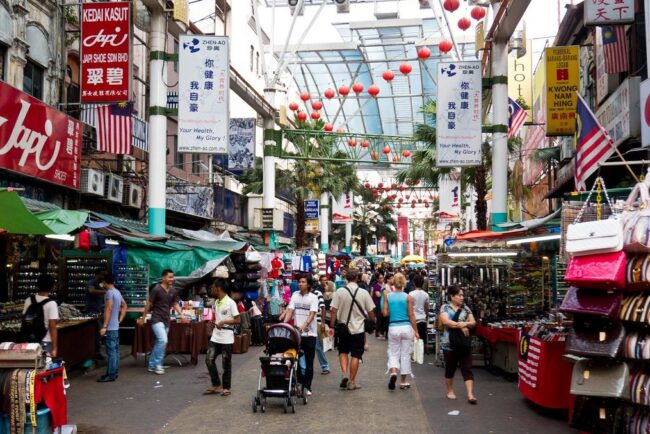 The Chinese Quarter in Kuala Lumpur is a vibrant place in the city where every tourist can see temples, markets, shops, galleries, restaurants, and street vendors.
Central Market is an indoor shopping centre. You can find it on the right side of the blue building as you walk along the street. The centre was founded back in 1888. It is very clean and offers a wide range of souvenirs, as well as cafes. Central Market is an excellent place to learn more about Malaysian culture. It is worth visiting specifically for unique and interesting souvenirs.
Petaling Street is a famous Chinese market in Kuala Lumpur. It opens in the evening and is a bustling market. Here, you can find counterfeit branded items. If you plan to make a purchase, bargaining is a must. Petaling Street operates even in rainy weather.
Chee Cheong Kai
Chee Cheong Kai is a street of little demons. It is a relatively new attraction in the city. Chee Cheong Kai is a hidden alley in Kuala Lumpur's Chinatown. The highlight of this place is the murals that depict everyday life in the bygone era of the 1960s.
It is considered the golden era of Chinatown in Malaysia's capital. There are plans to transform the boarded-up houses into hipster cafes and restaurants, restoring the place's former glory and popularity. During the day, this place attracts numerous tourists due to its street art.
Bukit Bintang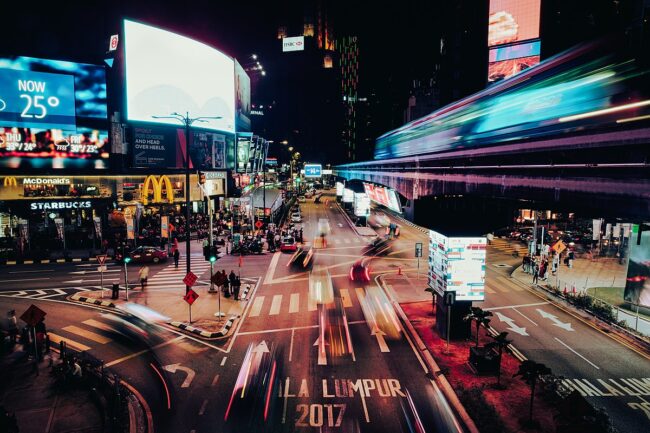 Bukit Bintang is a shopaholic's street. It is popular for its concentration of shopping centres and stores where you can buy anything. The stores offer a wide selection of clothing, electronics, cosmetics, and souvenirs.
If you have an unlimited shopping budget, Star Hill Gallery is the place for you. If you want to go for budget shopping, choose BB Plaza. Bukit Bintang also appeals to nightlife enthusiasts.
It is home to bars, restaurants, and clubs. Every traveller will find entertainment according to their interests. If you are feeling tired from visiting iconic places, there are massage parlours in every shopping centre. They will help you regain your energy and uplift your mood.
Putrajaya
Putrajaya is a deserted city. It is located 20 kilometres away from the capital of Malaysia and serves as the country's new administrative centre. Putrajaya was designed and built from scratch specifically for the government of the country, and only later did people start coming here. However, even to this day, there are only a few of them here.
This is where all the administrative buildings are located, and all bureaucratic matters are resolved here. Everything is compactly gathered in one place. Why is it a deserted city? Because on a weekday, there will not be a soul on the streets — everyone is sitting in offices and working.
Even the traffic lights do not operate, as they are not necessary. Compared to Kuala Lumpur, the tourism sector is still underdeveloped in this city.
You can visit the attractions of Putrajaya in one day. We recommend visiting the Prime Minister's residence, Putra Mosque, Putra Bridge, Iron Mosque, Botanical Garden, and the Millennium Monument.
Cable car in Genting Highlands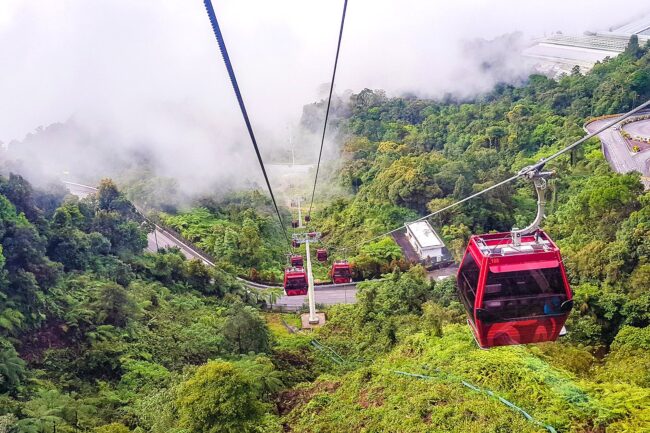 Genting Highlands is an amusement city situated in the mountains at an altitude of 2000 metres. It offers shopping, casinos, and a park with attractions. You can reach there via a cable car, which has become a local attraction. The lower station of the cable car is located in the village of Kuala Kubu Baru. You can also drive up to the top, but the cable car provides a more interesting experience.
The length of the cable car route is 3380 metres and consists of 3 stations: the starting point, the Chinese temple, and the final station. The Chinese temple is a separate attraction; one can easily spend an hour or more exploring its cave tunnels, enormous pagoda, Buddha statues, and breathtaking views.
Passengers can reach the top in just 11 minutes. The cable car was opened in 1997. The cost of a round trip is approximately $3.
How to find the time to visit all the attractions in Kuala Lumpur
Malaysia can entertain a tourist to the fullest. Kuala Lumpur alone boasts numerous attractions catering to various interests. Here, you will find not only stunning nature but also a plethora of interesting places.
In order to visit these attractions during your trip to the city, it is necessary to plan your itinerary in advance and carefully organise each day. We have prepared a few tips that will help you make the most of your stay in Kuala Lumpur.
Create a travel plan
Start by making a list of places you want to visit and things you want to see. Museums, parks, the oceanarium, caves — sort them based on your priorities and their importance to you. Even better, sort them based on their proximity to one another. This will allow you to move gradually throughout the city without wasting time on unnecessary travel.
Choose the right time for your visits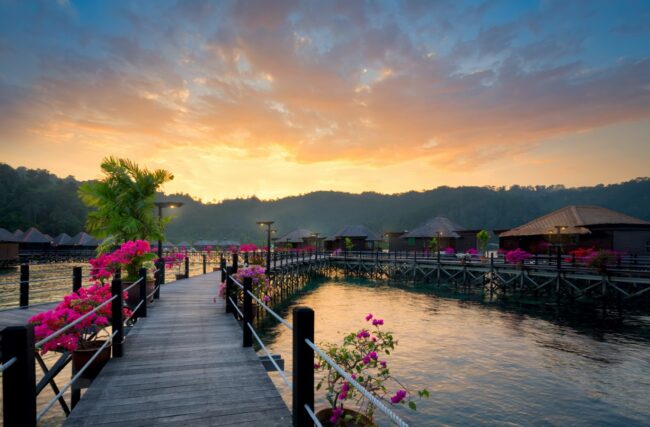 Some attractions, such as the Petronas Twin Towers and the Menara Tower, are extremely popular and attract a large number of tourists. Try to select the appropriate time outside peak hours to fully enjoy the planned places.
Additionally, purchase tickets in advance through websites to avoid standing in queues. Malaysia's climate varies depending on the time of year, so choose favourable conditions for yourself to ensure a pleasant trip.
Rent a car
It is better to move around the city quickly by car. You will not waste time waiting for the subway or bus, and you can reach your desired destination earlier than others. Cars in Kuala Lumpur can be rented on the website of LocalCarRent.
Try it once, and you will realise that it is much more convenient and cheaper. With a rented car, you can also find accommodation in any part of the city without being tied to transportation hubs.
Use the services of local guides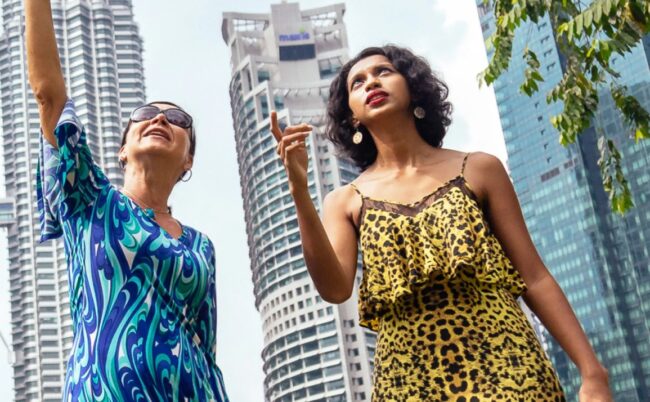 If you want to learn more about the city and its attractions, take advantage of the services of guides and tour guides. They will tell you things that you will not find in standard guidebooks or typical websites.
Local guides will help you plan an optimal route and see all the planned places in a short time. Contact a travel agency or search online on specialised guide service websites. Pay attention to their work experience, ratings, and reviews.
Travel light and without excessive luggage
This will allow you to move quickly between cities and avoid wasting time on packing and unpacking. Before travelling to Kuala Lumpur, make a list of necessary items and bring only weather-appropriate clothing.
The fewer things you have, the easier it will be to get around the city. A few bags will fit in the trunk of the rented car. If you happen to have a lot of luggage, use the luggage storage services available at hotels or train stations.
Kuala Lumpur is a dynamic city in Malaysia that captivates you from the first moments of your stay. When visiting, every tourist will discover an unforgettable travel experience. High towers and iconic squares, vibrant Chinese quarters, an incredible cable car, the opportunity to interact with marine life, and observe unique birds — all of this can be found in one city called Kuala Lumpur.