Best Festivals of India 2023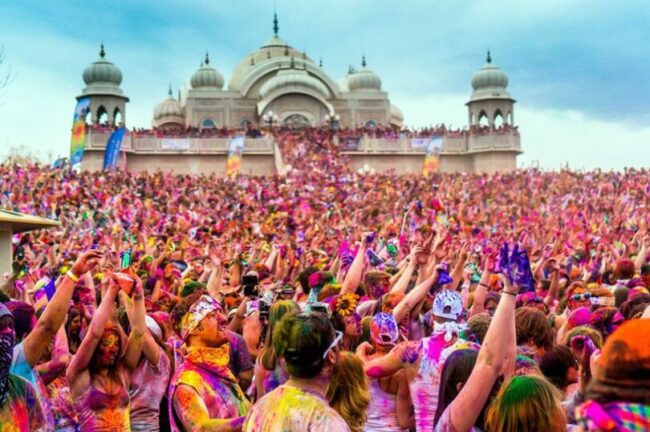 Indian festivals are colorful and fascinating. Most of them have some mythical aspect associated with them. These festivals are celebrated to honor and worship some god or goddess. Celebrations include special performances in temples and streets which pull huge crowds. While participating in these celebrations you are transported to mythical dimension of time and space. The origins of many Indian festivals lead us to some story about the three main Hindu deities and their respective consorts.
Three principal deities in Hinduism are Brahma, Vishnu and Shiva. Brahma is believed to be the creator, Vishnu is the preserver and Shiva is the destroyer of the world. All the three deities have their respective consorts. Sarswati, consort of Brahma is the goddess of learning and fine ares. Lakshmi, consort of Vishnu is the goddess of wealth and affluence. Parvati, consort of Shiva is considered to be the source of primordial energy also known as Shakti.
It is believed that Vishnu being the preserver of the world, appears on the Earth in human or other forms when evil prevails on the Earth. These appearances of Vishnu are known as incarnations or Avataras. Vishnu is worshiped in his original form as well as his incarnations.
Indian festivals align with solar and lunar cycles. Their date and time are based on Hindu calendar. Some of the important festivals of India are Diwali, Durga Puja or Navratri, Dussera, Ganesh Chturthi, Holi and Raksha Bandhan.
Durga Puja or Navratri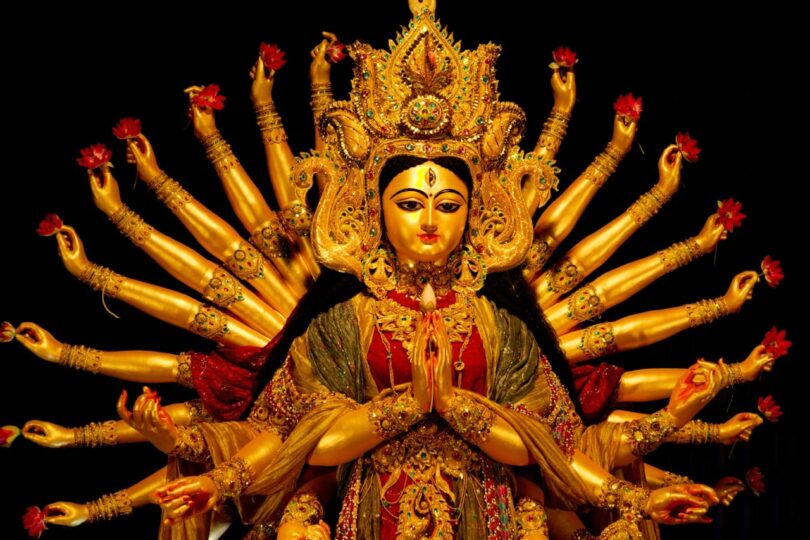 Navratri means nine nights. During this festival various forms of goddess are worshiped for nine nights. According to one legend, once there was a demon called Mahishasura. He was so powerful that he defeated all the gods and their king Indra in heaven and threw them out. All the gods led by Indra went to Brahma for some solution. Brahma in consultation with Vishnu and Shiva created Durga. All the gods gave their special weapons to Durga. She went and defeated the demon and thus peace was prevailed. Here the demon symbolizes the lower, animalistic instincts in human beings and Durga indicates the prowess to conquer these base instincts.
Navratri or Durga Puja is celebrated in almost every colony of India. During the festival canopies are erected in different areas of a city. Statue of Goddess Duga is installed on a dais under the canopy. Statues of Parvati and Sarswati are installed on either side of goddess Durga. People dressed up in colorful clothes dance in circles around the goddess on the beat of drums. This goes on for 8 days and on the 9th day the idols are immersed in nearby river. Generally the processions leading to immersion are frenzied with beating of drums and people dancing their way to the river.
Dussera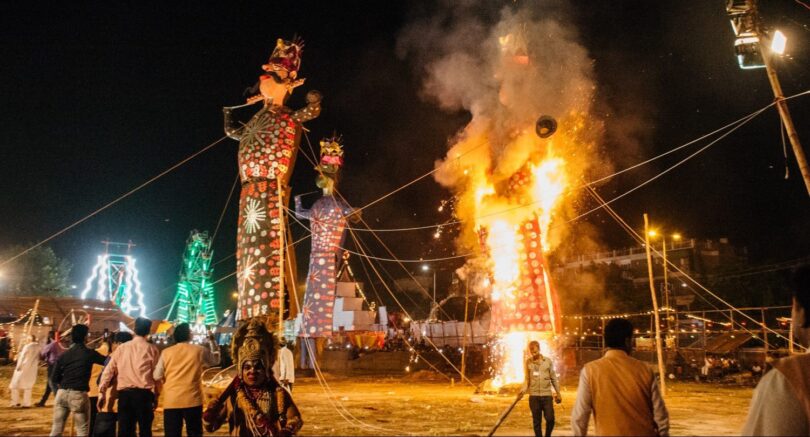 10th day of Navratri is celebrated as Dussera. It is also known as Ayudh Puja, as traditional warrior class of India used to perform puja of their weapons on this day. Today, people perform puja of their vehicles. Dussera is celebrated in honor of Lord Rama who is believed to be an incarnation of lord Vishnu. On this day he defeated and killed Ravana, the demon king who kidnapped his wife Sita. People burn the effigy of Ravana made from wood, paper and cloth. Sometimes these effigies are as tall as 30 feet and stuffed with fireworks. They are erected in open fields and burnt at night. Amateur theater groups perform Ramayana which depicts the story of Lord Rama.
Diwali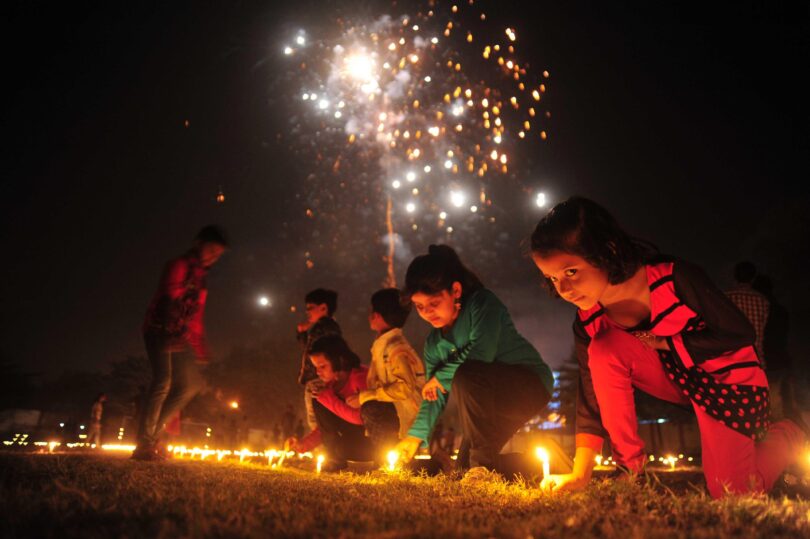 Diwali is short form of Deepavali meaning string of lights. Again this is the festival of light indicating victory of light on darkness. Fireworks and crackers are an important part of the celebration. On this day people wear new clothes and eat sweets.
At night, people light lamps on doorsteps and window sills to welcome Laksmi, goddess of  wealth in their houses. Lakshmi Pujan is performed at night where goddess Lakshmi is worshiped. Gambling is prevalent among businessmen and traders on this day. They believe that by playing games of chance, they can discern how would be the coming year in terms of gaining wealth. For many business establishments, financial year begins with Diwali.
Many different legends are attributed to celebrating Diwali. According to one legend, lord Vishnu defeated a demon called Naraka who liked to indulge in filth. So, people clean their houses to celebrate this day. It is also associated with homecoming of Lord Rama. Lord Rama reached his home town Ayodhya on this day after defeating Ravana. As a result people celebrate Diwali to rejoice his victory.
Holi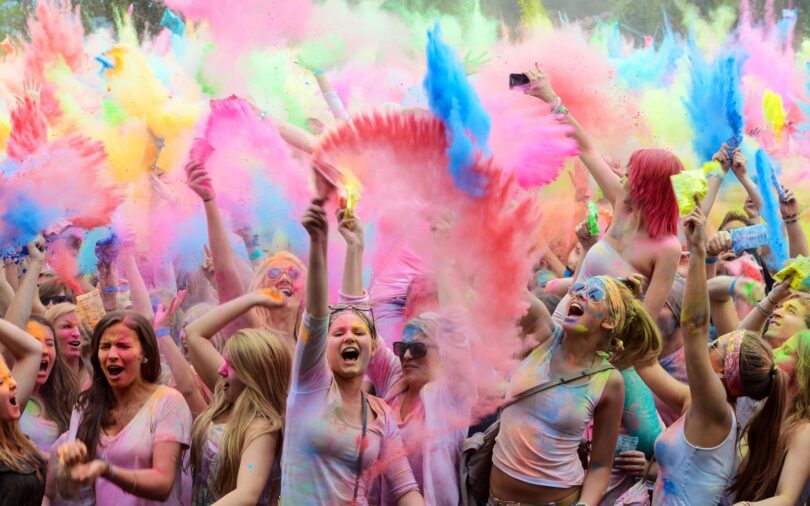 Holi is another major festival of India. It is celebrated to welcome spring. It is also known as the festival of colors. On this day people play with colors. They throw colored powder and colored water on each other. An intoxicating drink called Bhang is consumed lavishly. People go to their friends houses and play with colors and drink Bhang. A lot of dancing and singing is associated with this festival. People drop all the inhibitions and celebrate this festival with passion.
The ritual of Holika Dahan is performed on previous night of Holi. According to the legend, once there was an arrogant king named Hiranya Kashyap. He made his people to worship him as god. His son Prahlad refused to acknowledge him as god. To punish Prahlad, Hiranya Kashyap ordered his sister Holika to sit in a fire with Prahlad in her lap. Holika had  a boon that fire cannot burn her. But, on that night Holika was burnt in the fire and Prahlad came out of the fire unharmed. So, every year Holi is celebrated by lighting a bonfire. It reminds us of the supremacy of god and victory of Prahlad's faith in god.
Theses are a few major festivals of India. Apart from theses, there are many more festivals that are celebrated with lots of joy and fanfare. Indian people also celebrate festivals of muslims and christian such as Id and Christmas with equal joy and enthusiasm. Indian festivals is an evolving tradition where new festivals are added every year.