Porto to Lisbon Road Trip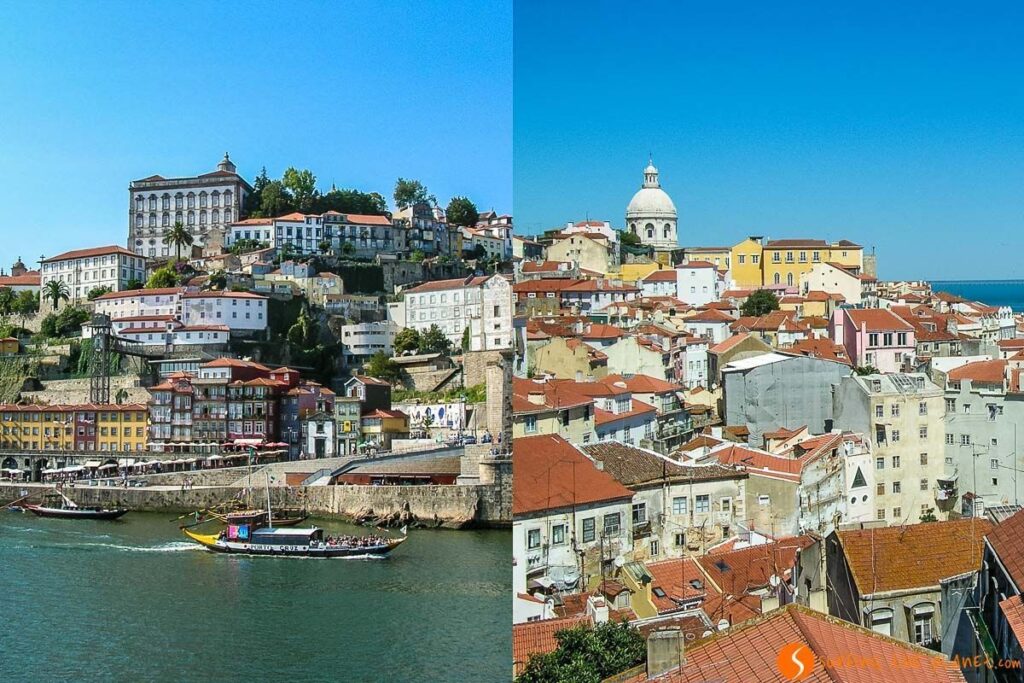 In Portugal, Porto has a long and distinguished history, dating back to the 1 st century BC. It has played a key role in the history of Europe, being a major hub of commerce and industry. Today, Porto serves as the capital of the Northern Portugal and the second largest city in the country. Like the city's name indicates, Porto is primarily known as a major port, thanks to its extensive river access, favorable geographical location, and rich historical heritage.
A year ago, I went on a road trip from Amsterdam to Lisbon. The trip was filled with unexpected adventures and many (!) mysteries.
If you are planning a trip to Portugal, you should definitely visit the country's capitals, Porto and Lisbon. The travel time between the two cities is only 3 hours, but why rush? For an unforgettable trip, rent a car, get off the beaten track and take the scenic route, passing by incredible sights on the way from Porto to Lisbon. Travelling through the Portuguese countryside is the best way to discover some of the country's hidden gems. From charming medieval villages to magnificent castles, through one of the most beautiful and oldest wine regions in Europe, the places and landscapes between Porto and Lisbon are breathtaking. This 10-day itinerary between Porto and Lisbon covers the main tourist attractions between Portugal's two largest cities. You will end this trip in beauty, dreaming of your next visit to this beautiful country. Check out our step-by-step guide to planning the perfect trip to Portugal! Roofs of Oporto, seen from the viewing platform Miradouro da Vitoria.
Review of the journey from Porto to Lisbon
Porto – 2 nights
Peso Da Régua
Pinhao
Lamego – 2 nights
Tomar
Obidos – 2 nights
Sintra – 2 nights
Lisbon – 2 nights
Recommended stopping places
Day 1 – Arrive in Porto and visit the city if you have time. First night – Porto Day 2 – Spend a full day visiting Porto's main attractions. Night 2 – Porto Day 3 – Rent a car in Porto and begin the 1.5 hour drive to the Douro Valley. Route to the town of Lamego with stops at Peso da Regua and the Galafura viewpoint. Night 3 – Lamego Day 4 – Spend a full day in the Douro Valley, visiting several wineries around Pinhão and taking a boat trip on the Douro River. Night 4 – Lamego
Day 5 – Start the day with an early departure from Lamego and drive in 2,5 hours to Tomar. Spend most of the day visiting the beautiful historic town of Tomar before continuing to Obidos, which takes 1 hour. Night 5 – Obidos Day 6 – Spend the day in the medieval village of Obidos. Night 6 – Obidos Day 7 – In the morning you will leave Obidos and begin the one hour drive to the town of Sintra. You can spend the rest of the day at the Monserrate Palace and the National Palace of Sintra. Night 7 – Sintra Day 8 – Spend a full day visiting the spectacular palaces of Sintra. Starting with the palace of Pena, followed by the Moorish castle, and if you have some time left, the Quinta da Regaleira is worth a visit! Night 8 – Sintra Day 9 – Start the day with a 30-minute drive to Lisbon, your last stop. Spend the rest of the day sightseeing in Lisbon. Night 9 – Lisbon Day 10 – Visit Lisbon's main attractions on the last day of your road trip. Night 10 – Lisbon Last day – pick up your rental car at Lisbon airport and fly home.
Total travel time
6 hours and 45 minutes, depending on traffic
Longest distance travelled
2,5 hours from Lamego to Tomar
Total kilometres travelled
600 km
Driving from Porto to Lisbon Highlights
⦁ Obidos + Tomar – magical medieval cities ⦁ Douro Valley – historic and stunning wine region ⦁ Sintra Palaces – the most unique and breathtaking palaces you will ever see ⦁ Porto + Lisbon – vibrant cities full of fascinating history and culture, delicious cuisine and amazing attractions.
How much time do I need?
I recommend 10 days for this trip to Portugal if you follow the exact itinerary above. Leave an extra day at the end to park the car and head home. If you prefer to travel at a slower pace, you can easily extend the trip to two weeks by spending a few extra nights at one of the stops along the route. If you have the opportunity, it is worth spending more time in Porto or Lisbon. These cities are truly amazing, there is so much to see and do that you will not be bored. If you're coming from abroad, plan a few extra days in Porto to recover from your trip before starting your road trip. Don't forget that you can also choose the opposite route and make a car trip from Lisbon to Porto.
Best time to visit Portugal
For sunny and warm weather, the best time of year to travel to Portugal is between May and September. The summer months of June to August are the tourist high season in Europe. So if you want to enjoy good weather and less tourist crowds, we recommend booking your holiday in May or September. Portugal has a mild climate all year round, but if you travel in the low season/winter, you can expect rain. If you visit Portugal in spring or early autumn, you can count on pleasant temperatures, plenty of sunshine and a minimum of tourists.
Portuguese wines not to be missed
Douro DOC – If you like rich, full-bodied wines with delicious notes of black fruit and a hint of oak, this is the wine for you! This unblended wine is produced in the Douro Valley, the best place to taste it, but it can be found all over Portugal and was almost on our list of favorite reds. The best Portuguese wines we have tasted are not available anywhere in the world, so be sure to try this amazing wine when you are here. Vinho Verde – this type of wine comes from the northern province of Minho and is not really a grape variety, but is so called because of the region of origin and the production method. The wine is bottled shortly after harvest (3-6 months) and traditionally has a slight effervescence, which is a result of unwanted fermentation in the bottle and is considered a drawback. But that's what made wine so appealing to us and many others, and that's why today's wine producers often artificially add a little effervescence! Port wine is a fortified wine known all over the world and named after its city of origin. You can't visit Porto and not taste the best port wine in the world. The best spot is one of the traditional wineries along the river, where you can explore the old buildings, taste the different types of port and admire the old Rabelo boats that used to transport barrels from the Douro Valley downstream.
Best travel insurance for car travel
Don't take any chances. Travelling without insurance is not a good idea! We always use the services of World Nomads. Click here for an offer.
Where to rent a car in Porto
When we travel, we use Rentalcars.com to book rental cars because their insurance rates are the cheapest, they have the best selection of vendors and the best prices. Use the search box below to compare prices of car rental options for your desired dates.
Route from Oporto to Lisbon
Porto
Before starting your journey from Porto to Lisbon, it is best to use the first two days to get to know Portugal's second largest city. This coastal city has so much to offer, from the colourful houses of the Ribeira Promenade to the famous Port wine cellars and the beautiful Douro River that runs through the city. Porto is full of history and there are many amazing things to see and do. You can easily spend more than two days here, but in this time you can mark the highlights and get a feel for what the city is like. All of Porto's major attractions are relatively close together, so you can see everything in a short time.
Main attractions in Porto
The Ribeira is the most colorful and picturesque part of Porto, stretching along the banks of the Douro River. Explore the maze of narrow, winding streets and beautiful old buildings that make up the Ribeira district. This place really comes alive at night. With its many traditional bars and restaurants, it is the ideal place to dine and spend the evening. Don't forget to try the port! From here you have the best view of the Dom Luis I bridge. The Church and Tower of Clerigo – For €5 you can climb the 200 steps of Porto's most emblematic building. This huge bell tower can be seen from almost anywhere in the city. Inside São Bento Station Often called the most beautiful station in the world, São Bento station is well worth a visit even if you're not travelling by train. Intricately painted blue and white azulejos decorate the interior of the historic station and tell the story of Portugal. This place is absolutely beautiful and very photogenic. Explore the wine cellars – Porto is home to many historic wine cellars known for producing the famous port wine. Located on the banks of the Douro, these wineries are open to the public for visits and tastings. A trip to Porto is not complete without a visit to a wine cellar! The most popular option is a visit to the Cálem winery. They offer an excellent tour of their wine cellar, where you will learn all about the fascinating history of port wine making in the Douro Valley. The visit ends with a tasting of port wine, accompanied by a fado show. 
Best views of the harbour
Miradouro da Vitoria – Don't miss this great view of the old town, the Douro River and the bridge. Bridge Dom Luis I – walk to the bridge and climb to the top for a great view of the city and river below. Ribeira de Gaia – After crossing the bridge of the lower section, you will arrive in Vila Nova de Gaia, a town on the south bank of the Douro. Walking to the waterfront, you can admire the colorful Ribeira promenade and the boats of Rabelo de Porto. These traditional boats have been used for centuries to transport wine from the Douro Valley to the city's cellars. Vila Novo de Gaia – This beautiful vantage point can be reached by walking across the upper platform of the Dom Luis I Bridge in Porto. As soon as you enter the city of Vila Nova de Gaia, you have a breathtaking view of Porto, the river and the bridge at the same time.
Where to stay in Port
Aparthotel Oporto Entreparedes offers self-catering apartments in a central location in the heart of Porto's historic centre. Located within walking distance of Porto's main attractions, this hotel offers beautiful views of the city. It is a clean and comfortable place to stay during your stay in Porto. Laurear Guest House – This clean and tastefully decorated room is conveniently located with many shops, restaurants and attractions nearby and is a popular choice in Porto. This lovely guest house offers city views, free Wi-Fi, airport shuttle service and a delicious breakfast included in the price. OportoHouse is a comfortable, family-run guest house in a great location. OportoHouse offers easy access to all of Porto's attractions, is a 5-minute walk from São Bento train station and offers the option of a continental breakfast; all at a very reasonable price! This guest house is ideal for budget travelers looking for comfort and convenience.
Douro valley
The next leg of your car trip from Porto to Lisbon takes you through the majestic Douro Valley. This wine region will surprise you with its enchanting beauty and over 2000 years of wine history. With its excellent wines and picturesque landscapes, the Douro Valley is definitely worth a place on any wine lover's bucket list. As you drive through the green hills, past old vineyards and overlooking the Douro River, you will want to spend more time in this special place! If you are leaving Porto, you should rent a car before you leave. Start early in the morning, set your GPS or Google Maps to Peso da Regua (it's 1 hour and 20 minutes away) and begin your journey inland. It doesn't take long before you have a breathtaking view of the vineyards hugging the hill. Don't be surprised if the trip takes much longer than the GPS predicts. The scenery in this area is breathtaking and it is definitely worth stopping, getting out, looking around and enjoying the surrounding nature.
Peso da Régua
Peso da Regua is a small town on the banks of the Douro River, surrounded by breathtaking views of the terraced vineyards that cut through the mountainous landscape. It is the ideal place to have lunch and take a break between two excursions to Lamego. As the first stop in the Douro Valley, it is also an ideal place to discover the history of the region and, of course, to taste a delicious wine. Spend a few hours in Peso da Regua before heading to the last stop of the day, Lamego.
Highlights of Peso da Regua
Lunch Break – When you arrive in Peso da Regua, you will be in need of a break for a bite to eat. Walking through the city, you will have no problem finding a restaurant. If you need advice, you can't go wrong with any of these options: Museu do Douro – This museum is a must if you want to know everything about the history of wine growing and production in the Douro Valley. Outside the museum is a charming wine bar where you can sip a glass of port while admiring the enchanting landscape. Wine Tours – Half day and full day wine tours depart from Peso da Regua. During the tasting you will learn more about the history of wine production in the region. For more information on wine and food tours, click here.
Best viewpoint in the Douro valley
We found the best views by stopping by the side of the road along the way. Nevertheless, the next viewpoint is worth the small detour! Don't miss the chance to stop at the São Leonardo da Galafura viewpoint when traveling from Peso da Regua to Lamego. It is the highest point in the Douro Valley and offers the most extraordinary panoramic views of the hills, vineyards and meandering river. Although there are many other extraordinary viewpoints where you can stop to admire the Douro Valley landscape, this is the most popular, and for good reason. To get there, it is only a 30 minute drive from Peso da Regua and 40 minutes from Lamego.
Lamego
From the observation platform we continue to the cathedral city of Lamego. This pretty town, surrounded by the Douro vineyards, is an ideal starting point for visiting the Douro Valley. Plan to stay there for two nights. Lamego offers many accommodation options for all types of travellers, from historic vineyard villas to modern hotels and cosy guesthouses, check out our recommendations below.
Where to stay in Lamego
O Cantinho do Colégio – Located in the centre of Lamego, these lovely apartments offer spacious and beautifully decorated rooms with a well-equipped kitchen, free Wi-Fi and everything you need for a great holiday. The reviews of these apartments on Booking.com are very positive: Cleanliness, excellent location and good value for money. Quinta da Portela – This fantastic bed and breakfast is situated on a picturesque vineyard on the outskirts of Lamego. Swim in the pool with breathtaking views of the vineyards, relax on your private balcony and enjoy a delicious breakfast. Staying in a traditional winery in the Douro Valley is an unforgettable experience! Lamego Hotel & Life – This beautiful hotel has its own vineyard and incredible views of the surrounding countryside. On-site facilities include a restaurant serving delicious local cuisine, a gym, heated pools and a sauna. We chose to stay here during our stay in the Douro Valley and highly recommend it if you are looking for a comfortable and memorable stay! 
Lamego Highlights
Sanctuary of Our Lady of Healing – This is one of the most impressive baroque churches in Portugal! Climb the 600 steps of the most beautiful staircase you have ever seen and you will eventually arrive at the church. Once at the top, you will be rewarded with a breathtaking view of the city below. For those who don't want to climb all the stairs, the church can also be reached by car. The Castle of Lamego is a small Moorish-style castle, located at the highest point of the city and offering stunning views of the surrounding Douro Valley. There are not many sights around the castle, but the view from the walls is worth a visit. The castle is open every day from 10 am to 6 pm, but closed on Mondays. Admission is free. Cathedral of Lamego – Originally built in the 12th century. This beautiful Gothic cathedral, built in the 16th century, has a rich and interesting history and majestic interiors. Museu Lamego – Housed in an 18th century palace. In the museum you will find an impressive collection of original tapestries and religious paintings by a number of famous Portuguese artists from the 16th century.
Pinhão
The picturesque wine village of Pinhão is located 20 km upriver from Peso da Regua, in the heart of the Douro region, peacefully nestled on a beautiful stretch of the Douro river. The town itself is small and doesn't have much to offer, but the many wineries around it attract people. This small town offers easy access to some of the Douro Valley's best vineyards, making it an ideal day trip from the base in Lamega. On the fourth day of your trip, you will spend a full day exploring the vineyards of the Douro. A visit to the vineyards, a cruise on the Douro River and perhaps a visit to the train station in Pignan are all must-dos during your stay in Pignan. To reach Pinhão from Lamego, take the scenic road that winds along the Douro River in about 40 minutes.
Highlights of Pingyao
Douro River Cruise – One of the most popular activities in Pinhão is a cruise on the Douro River, on a particularly picturesque stretch. Board the traditional Rabelo wine boat for a two-hour trip to see the terraced vineyards from a different perspective. A free audio guide is provided to give you an idea of what you will see during the tour. Book your cruise on the Douro here. Vineyard tours – There are many wonderful vineyards to visit in Pinhão. Below are some of the most popular wineries that offer stunning views and popular vineyard tours. Information on booking wine tours can be found under the relevant link. It's not always necessary to book in advance, but in high season the tours can fill up quickly. If you have any questions, please do not hesitate to contact the winery directly using the email address or phone number on the website. Pinhão station – This station, similar to the São Bento station in Porto, is a true work of art and is also considered one of the most beautiful stations in Portugal. Stop here to see 25 traditionally painted tiles depicting the history and beauty of the Douro Valley. Kayak hire – Discover the magic of the Douro Valley at your own pace by hiring a kayak and setting off on your own. The kayak rental includes waterproof bags, life jackets and up to 4 hours to enjoy the peaceful atmosphere of the Douro River. The local staff will make recommendations on the best places to visit.
Tomar
Tomar is a real hidden gem of Portugal. You may not have planned a visit, but there are many reasons why this charming city belongs on your itinerary through Portugal. Tomar is not only a great place to take a break, but its rich history and incredible architecture make it an attractive destination. On the fifth day of your road trip, you should leave Lamego early in the morning to begin the 2.5 hour drive to the medieval town of Tomar. Spend the day visiting Tomar and then continue the hour-long drive to Obidos, where you will spend the night.
Tomar Highlights
Tomar Castle and Convent – also known as the Templar Castle The architecture of the place alone is worth a visit, not to mention its fascinating history. This UNESCO world heritage site was built in the 12th century. Founded in the 14th century, it was once home to the Templars! Soak up the atmosphere as you stroll through the charming ivy-covered gardens that surround the estate. This castle has made a lasting impression on us, there is a special atmosphere here that is hard to describe. Take a few hours to explore the castle and park, it's like a maze inside. I recommend going there late at night to take advantage of optimal light and a minimum of people. The entrance to the gardens is free, the monastery/castle costs 6 €. Opening hours: daily 9-17:30
Castle of the Knights Templar Aqueduct of Pegões – From the castle, head towards the epic aqueduct of Pegões, which dates back to the 17th century. Century, which is just a 5-minute drive away. This impressive structure was used to supply the city with water, including the castle and the monastery. There is something magical about the old aqueducts, especially when they are lit up in the golden hour. We were lucky to arrive just in time to see the sunset, standing on top of the aqueduct, without a single person. Moments like this stay with us for a lifetime! Castle of Almourol – this gem can easily be visited on a trip from Tomar to Obidos. Almourol Castle is a 30-minute drive from Tomar. Built on an island in the middle of the Tagus River, it is considered one of the most beautiful fortresses in Portugal. The history of this castle began 2,000 years ago and it is still in excellent condition.
Óbidos
Once you've finished in Tomar, get back on the road and drive for another hour before reaching the small walled village of Obidos. This traditional Portuguese town is as picturesque as it gets. The white buildings with bright yellow and blue outlines are a delight to photograph and explore. Obidos is an idyllic fairytale town that seems frozen in time with its charming cobbled streets, medieval walls and soaring castle. During the summer months the narrow streets of Obidos are crowded with groups of excursionists from Lisbon. After spending two nights here, you will have a full day to explore the city during the quieter hours, when the day's tourists have already left. But if you take a few steps down an alleyway off the main streets, you'll find some quiet nooks and crannies. For such a small town, there is really a lot to see and do here. It doesn't take long to see why Obidos is becoming one of the most popular destinations in Portugal.
Obidos Highlights
Historic City – Shop the downtown souvenir shops and maybe buy a bottle of denim to take home. It is a traditional cherry liqueur grown and made in Obidos, an ideal souvenir for a stay in Portugal. The city is a bit of a maze, but don't be afraid to get lost in the many side streets and alleys. You will certainly find the most beautiful hidden corners and viewpoints. Rain or shine, this place is just magical! Castle of Obidos – This attraction of Obidos is not to be missed. It is situated on a hill and overlooks the city. The castle is classified as one of the 7 wonders of Portugal and dates back to the 8th century, when the region was occupied by the Moors. For those looking for a unique experience, you might like to spend a night at the 4-star Obidos Castle Hotel! City Walls – Walk along the old walls and enjoy a panoramic view of the entire city and its surroundings. Remember, these walls are uneven and there is no railing to keep you from falling off the side!
The Igreja de Santa Maria is the main church of Obidos and is located in the town's main square. It has undergone many changes over the centuries and has housed three different religions throughout its history. Column of Obidos – The stone column that stands in the heart of the town (right next to the Igreja de Santa Maria) is a historical monument with a sad history: it was once used to hang criminals. Directly under the column is a fountain from the 16th century, which once supplied the city's aqueduct with water.
Where to stay in Obidos
For an authentic experience and easy access to all the city's attractions, we recommend booking accommodation in the Old Town. Below are some well-located options with high returns. Casa do Relogio – This guest house is located in a restored 18th-century building. Century, near the city walls, with comfortable and spacious rooms. The hotel is close to all popular restaurants and cafes. We ourselves stayed at the Casa do Relogio during our stay in Óbidos and especially enjoyed the breakfast and the beautiful views from the terrace. Free parking is available near the guest house. Casa de S. Thiago de Óbidos – This charming little guest house is beautifully located in the historic centre of the town, offers stunning views of the town and serves an excellent breakfast. Free public parking is available in the street 500 metres from the property. Casa Picva – This charming guest house is located right next to the medieval walls, is surrounded by beautiful countryside, has comfortable rooms and serves a delicious breakfast. Free private parking is available on site. Thanks to the positive reviews on Booking.com, you can't go wrong with this hotel.
Sintra
This colorful city, located in the hills just outside Lisbon, is full of unique castles, extravagant palaces and historic houses. Once the summer residence of Portuguese nobles and kings, this magnificent complex of buildings now attracts millions of tourists every year. Sintra is about an hour's drive from Obidos. If you leave in the morning, you can spend the rest of the day visiting various palaces. Sintra is a popular day trip for tourists coming from Lisbon, but if you want to experience all that this fantastic place has to offer, you will need more than one day. Two nights in Sintra give you ample time to explore the city's main attractions. Below are recommended directions to help you get the most out of your stay in Sintra.
Recommended route to Sintra
Day 1
Departure from Obidos and arrival at Sintra in the morning.
Head to the Palace of Montserrat and spend a few hours exploring the beautiful palace and gardens.
Back to town for lunch.
End the day with a visit to the National Palace of Sintra, in the centre of town.
Day 2
Head straight to the Pena Palace to start your day.
Spend a few hours exploring the beautiful palace and surrounding gardens.
Go straight ahead to the old fortifications of the Moorish castle.
Lunch in the city
End the day with a visit to the charming Quinta da Regaleira, just 5 minutes from the city centre.
The main attractions of Sintra
Pena Palace – With its bright colors and quirky design, this unique castle looks like it came straight out of an N64 video game (Super Mario, anyone?). The Pena Palace is by far the most popular of all, so the queues and crowds are quite large. The crowd has gathered here for a reason, as the place is unlike anything you've seen before. This beautiful hilltop castle is not only an attraction in itself, but the breathtaking views from the top are another reason to visit! Pena Palace I recommend booking your tickets for Pena Palace online in advance and arriving before 9:30am. This is the best way to avoid two very long lines. If you buy your ticket in advance online, you won't have to stand in line at the palace. If you are on time to start, you have to wait in line to enter the palace. The tour can last up to 2 hours. Click here for more information about opening hours and to plan your visit to Pena Palace. Click here to buy a ticket for the Pena Palace. The entrance fee to the palace and park is 14 euros. Beautiful gardens of Quinta da Regaleira The Quinta da Regaleira is a UNESCO heritage site surrounded by charming gardens. Get lost in a maze of paths that lead you through thickets, underground tunnels and mystical initiation shafts. You will feel like you have been transported to another world! We visited it in the evening, about an hour before closing time. This only added to the atmosphere and created an almost creepy/dangerous feeling in the dim evening light. This beautiful palace was a highlight for us. Tickets cost 10 euros and can be purchased at the entrance. The tour of the entire building takes a maximum of 2 hours.
Quinta da Regaleira The Moorish Castle – also known as the Castle of Sintra. This old fortress is located at the top of Mount Serra de Sintra and offers panoramic views of the area below. These impressive ruins date back to the 8th century, when the Moors occupied the area. Tickets cost €8 per adult. The opening is scheduled for 10 a.m. Buy your ticket for a quick tour of Schloss am Moor here. The Palace of Monserrate is one of the least visited palaces in Sintra, a gem not to be missed. This exotic summerhouse and its surrounding gardens are a beautiful fusion of Arabic, Gothic and Indian architecture and have a quieter atmosphere than the rest of Sintra. Tickets cost €8 per adult. 
National Palace of Sintra The National Palace of Sintra – also known as the City Palace – is located in the heart of Sintra and was once the residence of the Portuguese royal family. The interior is decorated with decorative motifs and traditional Portuguese azulejos (tiles). Stop here as you explore the historic centre of Sintra. Tickets cost €10 per adult. Buy your ticket for a quick tour of the National Palace here Tip: Make sure you have lunch in the centre of Sintra before visiting the main attractions, as most do not sell food. The options they offer are too expensive, so it's best to avoid them and find a good place in town. Mysterious underground test pit at Quinta da Regaleira
Where to stay in Sintra
Hotels and apartments in this popular tourist destination fill up very quickly. We recommend booking well in advance to find a centrally located hotel so you can easily get to the popular attractions. Below are a few high-profile options. Sintra 1012 Boutique Guesthouse is a comfortable guesthouse in the heart of Sintra, within a 10-minute walk of Sintra National Palace and Quinta Regaleira. Breakfast is included in the room rate and the staff is very friendly. The Casa da Pendoa is another option, well located in the historic center. These comfortable apartments have a fully equipped kitchen, a private bathroom and beautiful views of the Moorish castle. Everything in Sintra is within walking distance and there is parking in the street near the house. Quinta das Murtas is a beautiful 19th century country house. Century in a picturesque location near the historic city center. The rooms are decorated in a traditional Portuguese style and some even offer city views. A full breakfast is included in the room rate. The hotel has a swimming pool and hot tub where you can relax after a day of sightseeing.
Lisbon
The final destination of your 10-day road trip between Porto and Lisbon is the bustling Portuguese capital. I can't imagine a better way to end your epic trip to Portugal than to spend two days in Lisbon. An amazing and vibrant city, full of sights, rich in history, with great food and a vibrant nightlife – Lisbon has something for everyone! Not to mention that it is one of the most economical cities in Europe. Meals, accommodation and sightseeing will cost you much less than in some Western European cities. The journey from Sintra to Lisbon takes 30 minutes. Try to leave in the morning and spend the rest of the day sightseeing the city of Lisbon. The best way to explore the city is on foot, by tram or by bus. So you'll find the best views and photo opportunities as you make your way through the colorful streets.
Main attractions in Lisbon
Alfama – The steep streets of the Alfama district are one of the oldest parts of Lisbon. Go back in time as you explore this medieval labyrinth of alleyways offering stunning views from several vantage points. Climb the narrow, winding streets to discover São Jorge Castle, perched atop Lisbon's hill. Enjoy the breathtaking views from the red roofs. Take the famous Tram 28 that connects Alfama with the surrounding neighbourhoods. Have you ever visited Lisbon without taking a ride on one of these classic yellow trams? Bairro Alto – In Bairro Alto, you'll find endless tiled facades and beautiful cobbled streets waiting to be photographed. This part of Lisbon really comes alive at night. There are plenty of lively bars and restaurants to choose from for a fun night out!
Miradouro de São Pedro de Alcântara – Lisbon has no shortage of vantage points or miradouros. It was one of our favorites. There is a terrace with several bars and cafes where you can relax after climbing the steep hills. This lively observation deck offers breathtaking panoramic views of the city. Ascensor da Bica – If you've ever seen a picture of Lisbon, this is probably it. Stop here to see the most iconic, perfect 19th century streetcar. You can watch a 19th century carriage drive up and down the steep road. Don't be surprised by the large crowds unless you are there in the morning. Belen – Known for its famous baked goods and its beautiful tower. Belém is located about 5 km west of Lisbon's city centre. To get there, take the 15 or 127 tram from Figueira Square in the city centre and get off once you pass the Jerónimos Monastery. Head to Pastéis de Belém to try one of the original Pastel de Nata (Portuguese egg pastries). This is the most famous place in Lisbon to buy these delicious pastries, but you can also enjoy them in other numerous bakeries in the city, where they are sold for around €1 each. We definitely ate our share, they are so delicious!
After filling up on Nat's Pastels, head to the amazing Tower of Belem. This old tower was once used to defend Lisbon and was later turned into a lighthouse. Entry to the tower costs €6; go early if you want to avoid the huge queue. We preferred to admire the beauty from the outside instead of waiting in line to get in. Tip: Beware of pickpockets on Lisbon's trams, especially those going to Belém. This road is very popular with tourists and attracts professional thieves.
Where to stay in Lisbon
All of the accommodation options below are centrally located, close to the main attractions and within walking distance of the best restaurants and nightlife. Lisbon Down Town Inn – This comfortable guest house is ideally located near popular restaurants and bars. A 10-minute walk from Bairro Alto and a 20-minute walk in Alfama to Castel São Jorge. The rooms are very comfortable and the hosts are friendly. We chose this hotel during our stay in Lisbon and we loved it! Hotel Borges Chiado – Stay in the heart of Lisbon at a very reasonable price. Overlooking Lisbon's Chiado Square, this chic hotel offers easy access to the nearby metro station and the famous 28 tram stop. The hotel has a gym, serves a continental breakfast and offers room service. The Lift Boutique Hotel – Located just around the corner from the famous Santa Justa ski lift, this hotel offers modern and tastefully decorated rooms. Breakfast is included and there is a bar on site, as well as many shops and restaurants nearby. → Click here to see more accommodation options in Lisbon ←. Ascensor da Bica – This is a must see, I was in Lisbon!
One of the Bucket List
We hope you are ready to add this epic trip from Porto to Lisbon to your list of experiences. This trip will especially please those who like to drink wine while admiring the scenic views, discovering the most charming medieval villages and immersing themselves in an ancient history. Portugal is such a diverse country with great beauty and amazing culture. This is one of the countries we've put on our list to return to, and we can't wait to go back one day to see more!
Frequently Asked Questions
How long is the drive from Porto to Lisbon?
The drive from Porto to Lisbon is an important one to make, as you will soon find this is the one road trip your life revolves around. A long drive on a highway can be a cause of both excitement and dread. All you can see is the road stretching out in front of you and all you can think about is how soon you will reach your destination. Portugal is a relatively small country and the capital city of Lisbon is only 1.5 hours from Porto. Many people choose to go from one city to the other by car, but since it's such a short distance, they usually take a flight. With that in mind, we decided to take a car from Porto to Lisbon—and while most of Europe's roads are in decent shape, it's been a while since I've driven down the highway at 125 km/h (70 mph).
Is Porto a day trip from Lisbon?
The UNESCO World Heritage Site of Porto, Portugal has been a bucket list destination for many travelers for a long time now, and for good reason. With its cobblestone streets, mansions, and winding staircases, you will find yourself swept up in a culture of medieval charm and landlocked beauty. While you're here, be sure to visit the great city of Vila Nova de Gaia, which was founded in the 1200s. The city is one of the world's oldest and largest fishing ports. The one-day trip from Lisbon is a must! Lisbon is a fairly small city, but it's full of great sights and great ways to spend a day. Leaving Lisbon by car you can make it up to Porto in a couple of hours, and you can spend a full day exploring both of these beautiful cities. If you're up for a bit of adventure, you can even make it up to the Alentejo, Portugal's wine country.
How many days should I spend in Lisbon and Porto?
The summer is here, and that means it's time to start planning a Portugal vacation. Every year, millions of people head to the country in search of beaches, Medieval cities, and the country's vibrant nightlife. And while there are many places in Portugal that you can go on your own, it's definitely best to hire a professional travel guide to help you explore everything that this amazing country has to offer. I was planning a couple of days in Lisbon and Porto, and I wanted to know the best time to go there. I used the weather.com website and it suggested the days would be best in April, May and September. This is a good start, but there's still a lot of room for error. Are the days really the best for me? I wanted to know the best day before I made the decision.